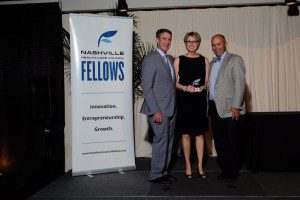 Dr. Cathy Taylor, dean of the College of Health Sciences & Nursing, was recently selected as a member of the 2014 class of the Nashville Health Care Council Fellows. The Fellows initiative engages industry leaders in clearly defining health care's greatest challenges and exploring new strategies to meet these issues facing the U.S. health care system.
"It is an honor to be selected as a 2014 Council Fellow, and I am eager to expand my knowledge and network with others in the health care field," Taylor said. "The Fellows class is an elite group of industry leaders, and I consider it a privilege to learn from and alongside each of them."
The 2014 class, selected by the Council Fellows Advisory Committee led by former U.S. Senate Majority Leader Bill Frist, M.D., includes 32 of the nation's top health care executives.
The Council launched Fellows in 2013 as the next step in continuing Nashville's rich health care legacy of leadership, innovation and creativity. The initiative engages key professionals to better implement business strategies, create value, drive industry growth and effect change.
The eight day-long sessions, held between January and June, will leverage the expertise of the industry's founding experts in Nashville, as well as nationally-known figures and leading academic institutions. The integrated curriculum will include topics such as health care policy reform, shifts in reimbursement systems, disruptive innovation in technology, population health, advancements in personalized medicine, consumerism, integrated delivery networks, population health management and health care analytics.