Veteran industry executive to lead Belmont's premier entertainment, music business programs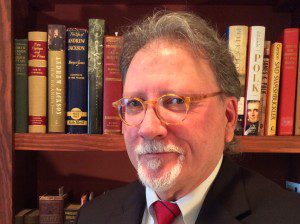 Belmont University announced today the appointment of Doug Howard, founder of Vandermont Music Group and former senior vice president of A&R for Lyric Street Records/Walt Disney Company, to the position of dean for the Mike Curb College of Entertainment and Music Business, effective January 1, 2015. Howard fills a position held for nine years by Dr. Wes Bulla, who announced earlier this year his intention to return to a full-time teaching position.
Belmont Provost Dr. Thomas Burns said, "The dean of the Curb College possesses the distinctive charge of leading innovative academic programs that are regarded worldwide as among the best in entertainment business education while also ensuring that the college itself remains intricately connected and involved in the industry, both in Nashville and beyond. From his long-held ties with Belmont to his incomparable music business experience, Doug Howard is uniquely prepared for this role, and we're honored to have him join us as the new Curb College dean."
A 1979 alumnus of Belmont, Howard received his MBA from Vanderbilt University and his JD from the George Washington University School of Law in Washington, D.C. He has a long history in the Nashville music scene with early beginnings as a song plugger and studio manager for the Welk Music Group. Following law school, Howard served as vice president and general manager for PolyGram Music Publishing for five years before becoming the senior vice president of A&R for Lyric Street Records, a division of the Walt Disney Company. Howard is the president and owner of Vandermont Music Group, a company he founded in 2010.
Howard said, "I am grateful and honored to be part of the Belmont family. My business career and personal life have both been wonderfully influenced by the education and mentoring I received here as a student and from the lifelong relationships developed with classmates and alumni. As dean of the Curb College, my goal is to support and guide the faculty and staff in educating, encouraging and developing our students to be transformative leaders, innovators and creators in every facet of the entertainment industry and to foster a spirit of service that reflects Belmont's mission and vision."
Howard will serve more than 75 faculty and staff and nearly 2,000 students in Curb College programs. Campus facilities supporting the college include four professional recording studios on Music Row (renovations of historic Columbia Studio A were completed in 2014), as well as shared instructional space, computer labs and substantial recording space on the main campus. In fall 2015, the college classrooms, offices and additional studio space will relocate to a new 134,000 square foot building which will include more than 30 student edit bays, multiple computer labs, a motion capture facility, a Foley sound studio, a 3,000 square foot sound stage, and two state-of-the art screening theaters (300 seat and 50 seat). In addition, the College of Entertainment and Music Business has established program partnerships with several other institutions (including the University of Hawaii, Fisk University and Watkins College of Art, Design, and Film) as well as offers semester-long experiences for its students in both New York City (Belmont East) and Los Angeles (Belmont West).
Howard has maintained his Belmont ties through the years, serving as the chair of the Advisory Board of the Curb College and as a member of the William G. Hall Scholarship Committee. Additionally, he serves on the Advisory Council for the Center for Popular Music at Middle Tennessee State University, the Board of the Tennessee Shakespeare Festival and the Nashville Board of Governors of the Recording Academy.
About the Mike Curb College of Entertainment and Music Business
The Mike Curb College of Entertainment and Music Business strives to combine academic experience with real world applications and seeks to achieve its mission by implementing innovative courses of study in the entertainment and music industries. A quiet world leader that has been featured in Time Magazine, Rolling Stone, Billboard, and Business Week, CEMB offers three degrees and four majors—a BBA in Music Business and a BA or BS in Audio Engineering Technology, Entertainment Industry Studies, and Songwriting—and provides invaluable experiential learning opportunities like the Belmont East (New York City) and Belmont West (Los Angeles) programs, through which students expand their cultural experiences and career opportunities as they reside, learn, work and network in NYC or LA. Coupled with entertainment internship opportunities available on and around Music Row, these programs augment students' chances for entrepreneurial endeavors and career advancement.