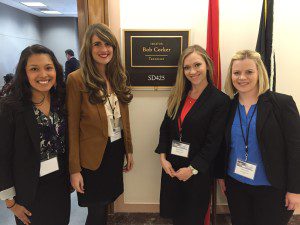 Four doctor of nursing practice (DNP) students attended the AACN Student Policy Summit held in Washington, DC March 22-24. The students were immersed in program sessions focused on the federal policy process and nursing's role in professional advocacy. 
As part of the summit, participants made visits to Capitol Hill with Associate Dean of Nursing Dr. Martha Buckner, meeting with legislative staff of the Senate Health, Education, Labor and Pension committees.
Student Jennifer Jaramillo said, "The policy summit was such an amazing opportunity to advocate for nurses in Tennessee and across the nation. Building a network with other nursing leaders was an invaluable experience that will enrich our future practices. Advocacy and policy play a major role in our nursing practice and the future of our profession."
Pictured are DNP students Jennifer Jaramillo, Kathryn Dambrino, Danielle Voss, and Kristen Allen as they wait for a meeting in Senator Bob Corker's office.