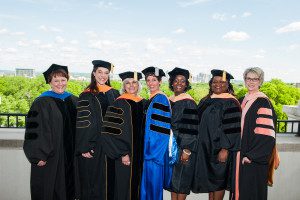 Belmont's Doctor of Nursing Practice (DNP) was recently granted full accreditation by the Commission on Collegiate Nursing Education's (CCNE) Board of Commissioners. The University began its Master of Science in Nursing (MSN) to DNP program in the fall of 2012 with 5 students. In the fall of 2013, the Bachelor of Science in Nursing (BSN) to DNP program was launched. In the fall of 2014, the programs together totaled 28 enrolled students.
With the first graduating class in May 2014, Belmont has seen great success with both DNP tracks. 75 percent of these graduates were invited to present their scholarly project, a required portion of their degree track, at a national meeting of nurse practitioners.
"This is yet another notable benchmark for nursing at Belmont. I am grateful for the University's leadership and encouragement for establishing the DNP program and also want to recognize the hard work of Drs. Buckner, Wofford and Higgins and the graduate nursing faculty and staff. This accreditation award is a direct reflection of their steadfast commitment to professional excellence," said Dean of the Health Science and Nursing College, Dr. Cathy Taylor.
The School of Nursing aims to produce nursing professionals that can assist in transforming our nation's health care industry, said Dr. Martha Buckner, associate dean of nursing. With a focus on a collaborative educational environment, the School is committed to identifying needs within the industry and producing additional tracks that meet those needs.
Belmont's Provost, Dr. Thomas Burns said, "The full accreditation of the DNP program at Belmont brings to fruition the full suite of holistic nurse training programs at Belmont. With this final piece in place, our nursing program now provides compassionate, patient-centered education to nurses across the full spectrum of practice-based nursing education and provides our students and our community with the best comprehensive nursing training program possible."
With this granting of this accreditation, all Belmont nursing programs are fully accredited by the CCNE.