DeVon Franklin, award-winning film and TV producer, New York Times best-selling author, international speaker and spiritual success coach, kicked off Belmont University's 2018 MLK Commemorative Week with a keynote address at the MLK Breakfast held on Friday, January 12.
Lonnell Matthews, director of the Mayor's Office of Neighborhoods and Community Engagement, attended the event and presented Franklin with a proclamation on behalf of Mayor Megan Barry before Dr. Jon Roebuck, executive director of Belmont's Institute of Innovative Church-Based Leadership, opened the event in prayer. Black Student Association President and Belmont student Kayla Young then introduced Franklin and detailed his many accomplishments.
Franklin began by discussing the week's theme, "A View From the Mountaintop" and reflecting on Dr. Martin Luther King, Jr.'s final speech, "I've Been to the Mountaintop." He emphasized King's drive to seek the will of God in his life, despite challenges that arose. Though we now understand this speech to be King's last, Franklin wondered whether King was somehow aware of the importance of his final words. He quoted King saying, "…I've seen the Promised Land. I may not get there with you. But I want you to know tonight, that we, as a people, will get to the promised land!"
"Maybe Martin knew he was leaving this Earth," Franklin said. "But he didn't want to leave his listeners without hope.'
He went on to describe the finite nature of our lives — and how we have no idea how much time we have left. "There are some things God has called us to do that we say, 'I'll do when it's time.' But what if the time is now? You don't have as much time as you think you have to do what he has called you to do."
Franklin described the initial days of his career — as an 18-year-old unpaid intern for Will Smith — and emphasized the importance of remaining committed to your beliefs, regardless of your environment. As a Hollywood employee, Franklin said many people doubted his ability to stay true to his commitments–including attending church on Sundays. But he was steadfast and sure to include his boundaries in initial conversations regarding his work. Not only were his needs respected, he even had the chance to begin Bible study conversations with his co-workers.
Now, a successful professional in the industry, Franklin emphasized the need for all people to come together — regardless of their political affiliations. "Too often we allow ourselves, even as believers, to get caught in a fictitious fight," he said. "…we've allowed the political divide to divide us as a body. The Bible says ONE body. We have to get back to being one faith."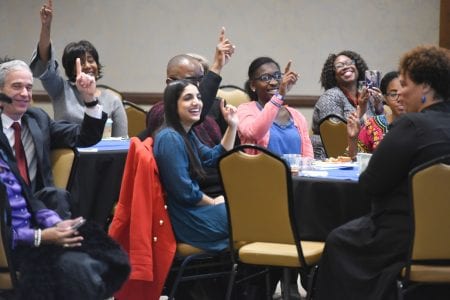 He asked all audience members to raise a finger to the air as he described the importance of one. "This is what we are fighting for, [the one]," he said. "When you feel divided, put your one in the air…There's a lot of power in pointing to the one who can help us through anything."
Franklin ended his session with a charge for listeners. "We only live this life one time. What are you going to go with the one you've been given? What do you down here with this one determines what happens up there."
The MLK Breakfast ended with a audience sing-along of "Lift Every Voice & Sing."