March has been a busy month for chemistry outreach with both high school students in the Middle Tennessee area and Belmont students.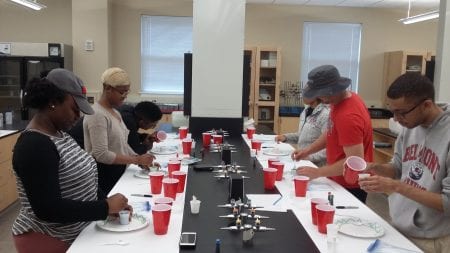 Belmont's Department of Chemistry and Physics hosted its third annual guided-inquiry chromatography workshop for high school chemistry students. Event organizer and Assistant Professor of Chemistry Education Dr. Danielle Garrett held two workshops on campus during March.  During these workshops, 41 students, from 10 schools had the opportunity to participate in hands-on science in "Sweet Sweet Chemistry:  A Chromatography Challenge." After a mini-lecture and discussion covering relevant background information and experimental techniques, each student worked to extract dye from candy and determine the most effective solvent system for achieving the best separation of colors in the dye mixture.
"These events give the students the opportunity to work independently, experience a full extended lab period, and engage in experimental techniques that they may not have the opportunity to explore in high school," Garrett said.  "Plus, they are just plain fun!"
Garrett was also approached by Ode Gyamfi, Belmont student and resident assistant, about hosting a "Fun with Science!" program for residents of Potter Hall.  During the event, Garrett led students in separating ink pigments using chalk chromatography and in making floam, bouncing putty and dry ice bubbles. Gyamfi wanted to organize this event because she wanted the residents of Potter Hall to view science as something that can also be fun. "A lot of residents are always complaining about the science work they have to do for class, and I wanted this program to serve as a way for them to have fun with science without the serious learning part of it," Gyamfi said. "It's always so interesting to see the different passions and perspectives of people in the science world."
The Women in Science (WIS) student organization also recently hosted their 3rd "Spa Day" event.  Students were invited to take a few minutes to reflect and relax during this busy time of the year.  Based on the natural properties of the ingredients, such as the exfoliating properties of brown sugar and green tea, the antioxidant benefits from olive oil and the skin tightening properties of egg whites, WIS officers Crystal Lemus, Maddy Clarke Williams, Bailey Bergmann, Shaoyun Yang, Aditi Buch and Claire Holden led participants in making two natural exfoliating scrubs and a facial mask.
"The WIS officers always work so hard to find interesting and engaging activities to share with the Belmont community," Garrett, who serves as the WIS faculty advisor, said.  "Their motivation, strong organizational skills and powerful leadership skills have not only helped make their events a success, but also make them wonderful role-models for other students."