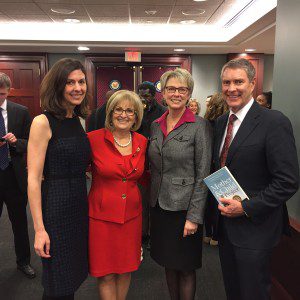 Dean of the College of Health Sciences Dr. Cathy Taylor was recently featured "The Mother & Child Project: Raising our Voices for Health and Hope," a compilation of personal narratives, research and essays from inspirational leaders, politicians, philanthropists, speakers and musicians including Kimberly Williams Paisley, Amy Grant, Melinda Gates, Senator Dr. William H. Frist and Michael W. Smith, among others.
The project was compiled by Sen. Frist's Hope Through Healing Hands, a nonprofit whose mission is to promote improved quality of life for all people around the world. Using health to lead the charge, Hope Through Healing Hands seeks to educate all people on ways to have access to a fuller, healthier lifestyle.
Published with the intent to raise awareness on maternal and child health issues in developing countries, the book also includes personal stories from women in other countries who have been positively affected by family planning, prenatal care access and post-natal medical assistance. The book outlines the critical role family planning plays in preventing mortality, combating extreme poverty, keeping girls in school, promoting gender equality and preventing mother-to-child transmission of HIV.
Dr. Taylor said she was immediately interested in supporting the project through the writing of a chapter because with the advancements in science for maternal and child health, the ways to ensure health among young children is clear. "We know how to nurture those babies to grow into healthy, productive adults, but in developing countries, many of the ingredients are missing. We can do something about that," Dr. Taylor said. "Raising awareness of the tragic plight of millions of young women and children in developing countries can make a difference.  As Christians, we are called to carry each other's burdens, and this is a burden we should share."