The Rev. Dr. Emilie M. Townes visited Belmont last week for a faculty lunch event highlighting the value of diversity in Christian higher education. Townes currently serves as dean of Vanderbilt Divinity School and is the E. Rhodes and Leona B. Carpenter Professor of Womanist Ethics and Society. The first African American dean of Vanderbilt Divinity School and first African American female president of the American Academy of Religion (2008), she is the author of numerous books—including, "Womanist Ethics and the Cultural Production of Evil" (Palgrave Macmillan Press, 2006). She is an ordained clergywoman in the American Baptist Churches USA.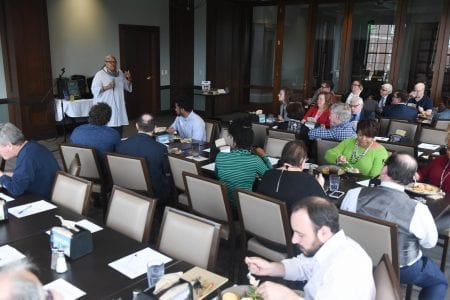 The lunch was the final event of the Diversity Lunch Series organized by the Faculty Inclusion, Diversity and Equity committee and co-sponsored by the College of Theology and Christian Ministry. After a word of welcome by Dr. Beth Ritter-Conn and introduction by Dr. David Dark, Townes spoke eloquently about diversity as a challenging, ongoing and multi-faceted conversation that can only flourish in an environment of trust among peers. Dr. Darrell Gwaltney, dean of the College of Theology and Christian Ministry, affirmed the importance of building mutual trust: "There's nothing more sacred than sitting around a table together over a meal and learning from each other. It is a good thing how the Diversity Lunch Series brings us closer together."
The Diversity Lunch Series is supported by a grant Dr. Gideon Park received from the Wabash Center for Teaching and Learning in Theology and Religion, which is funded by Lilly Endowment Inc. and located at Wabash College in Crawfordsville, Indiana. The grant seeks to more fully express Belmont's Christian identity by creating an inclusive culture for minority faculty, staff and students of color. The series is also made possible by funding from the Provost's Office. After attending the lunch, Provost Dr. Thomas Burns commented: "I'm grateful to Dr. Park's leadership in helping our faculty and staff engage with visiting scholars, allowing us to investigate various concepts of diversity within the academy and generating productive conversations and critical dialogue about diversity on our campus."
The Diversity Lunch Series will continue next year under the guidance of the committee with generous support from the Provost's Office.