Entrepreneur Dan Hogan has been named as Belmont University's Jack C. Massey College of Business Entrepreneur in Residence for the 2018-2019 school year. Hogan founded his business, Medalogix, in 2009 with the goal of assisting home health providers in managing and delivering more efficient and effective patient care.
As a former home health agency owner and operator, Hogan founded Medalogix to be a post-acute specific predictive modeling and workflow company. His personal healthcare knowledge has assisted him in tackling challenges in home health care and end-of-life care.
As the Entrepreneur in Residence, Hogan will be available to give one-on-one advising to students as they begin or continue in their entrepreneurial endeavors. He will also support other entrepreneurial programs in the Massey College of Business throughout the year. A seasoned entrepreneur rooted in Nashville, the Entrepreneur in Residence will also act as a connector between Belmont and Nashville by setting up speakers, connecting students with mentors and getting students engaged in other entrepreneurial events in the area.
In a convocation event held on campus, Hogan had some advice for students and young entrepreneurs. He told students that "it is better to be lucky because you're out there in the game," when starting their own businesses. He encouraged students to get comfortable with the phrase "I don't know" and to "go and try and fail, and maybe one day you won't fail." Hogan also spoke about how influential and critical mentors and advisers have been to him throughout his career.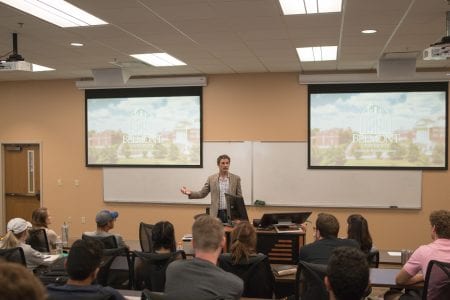 After developing Medalogix, Hogan and his business have been recognized by several different Nashville organizations and national organizations. He was honored as Nashville's "2016 Entrepreneur of the Year," and one of "Nashville Business Journal's" "Most Admired CEO's." Medalogix was recently recognized by Harvard University as a Health Acceleration Challenge finalist.
Hogan is a Chicago native and holds a degree in speech communication from the University of Georgia. He is involved in the Nashville community through being on the board of Safe Haven and TEDx Nashville. He also is a member of Leadership Nashville's 2016 class and a past president of Entrepreneurs' Organization's Nashville chapter.
Entrepreneur in Residence from the 2017-2018 school year, Victoria Kopyar, will also be available to students as an entrepreneurial resource for the coming school year.