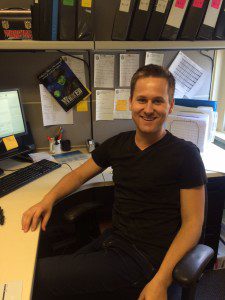 For senior music business major Samuel Dallas, this summer has been one giant learning experience after another, producing "Wicked" results that continue to fuel Dallas's long term goals.
After spending the spring semester working as an assistant to the creative team at a Broadway workshop, Dallas received a recommendation for a summer internship split between two production companies, Stone Productions and 321 Theatrical Management. The combined full time positions have given Dallas the opportunity to work on a variety of shows including "Wicked," "25th Annual Putnam County Spelling Bee" and "Next to Normal," among others.
Working in the Broadway General Manager's Office at 321 and the Broadway Producing Office at Stone, Dallas spends his days assisting with running the show behind the scenes including financial wraps, managing front of house, working with investor distributions and payroll.
With sights set on ultimately producing and managing his own shows some day, Dallas said the choice to spend the summer in New York City was an easy one. Working under mentors who have developed long and sustainable careers on Broadway, Dallas knows he's learning from the best. "These people have done it all and know the ins and out of the industry – and I believe you can only be as good as your teacher," Dallas said. "Learning from these amazing leaders gets me excited to come into work everyday."
Although all the shows managed and produced by 321 and Stone have provided invaluable learning opportunities this summer, Dallas looks to "Wicked" as the one he's most grateful for. "The show is an amazing learning tool because of its strength and long-running history in the industry. Hands-on experience with shows in the office allow me to learn by doing."
Dallas credits much of his success to his network, community  and the opportunities that have come from his time at Belmont. Without the experiences he has been offered within the industry, Dallas said he wouldn't have had the credibility needed to land his ideal summer job. "Belmont has allowed me to get unique hands-on experience with the industry. I'm not a number, I'm a person," Dallas said. "I have been able to use the opportunities throughout campus and Nashville to build my resume and make it strong enough to come to New York City and dive into the Broadway administration community."