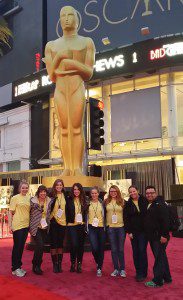 On Sun., March 2, eight current Belmont West students and four Belmont alumni served as part of a staff of 30 who ran the "Oscar Fan Experience." About 800 fans were chosen to sit in the stands along the red carpet and enjoy The Academy Awards' arrivals. The fans arrived at the Dolby Theatre early Sunday morning and were welcomed by the Bruins who handed out gift bags and served breakfast. The Oscar Fan Experience included massages, make-overs and a photo booth while the fans waited for the celebrity arrivals. Despite the rainy weather, it was a great experience for the fans who came from all over the world. During the arrivals, the students and alumni managed the fan stands. Once the carpet was closed, the fans were led across the street to The El Capitan Theatre where they were served dinner and watched The Academy Awards live.
Belmont West adjunct instructor Valerie Vanderwest said, "Having an almost 15-year presence in Los Angeles, the Belmont West students have earned a reputation of being professional, hard-working and ambitious. We were so excited to get the call to return to the Oscars to work on the Oscar Fan Experience and extend this once in a lifetime experience to our Belmont West students."
This was the second time that Belmont students have had the opportunity to work on the production of The Academy Awards. In addition to The Academy Awards, the current group of Belmont West students have been collecting a semester of hands-on entertainment opportunities including working The GRAMMY Awards and attending an intimate listening party with Pharrell Williams for his new release, Girl.