Belmont's Mike Curb College of Entertainment and Music Business, described as "a living portrait of the new music and media industry," was recently featured as the cover story in MIX Magazine's November 2015 edition.
With photos of the newly opened R. Milton and Denice Johnson Center, home to Belmont's Curb College and Media Studies program, the feature story details the Center's impressive technology and equipment. When the building was announced in early 2013, then Dean of the Curb College Dr. Wesley Bulla said campus was challenged to "dream big, think about the future and create something new." Bulla said that although the College had access to studio space across a number of facilities, Curb College faculty and staff began dreaming big, and the Johnson Center was born.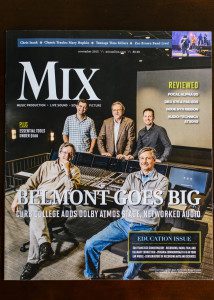 Home to the world's first university-based Dolby Atmos stage, a film and TV mix stage, a green room screen and shooting stage, a Foley stage, four computer labs, video and broadcast control rooms and more than 25 editing suites, the Center provides opportunities for students to learn in state-of-the-art facilities.
In the article, Bulla goes on to describe the intentional collaboration provided by shared spaces for Belmont's Curb College and Motion Pictures program. "Students in the audio program will learn about film production and how to create audio and sound for film…Students in the film program will learn about audio and sound production and how to incorporate quality sound into their vision for a film," Bulla said. "Both students will benefit from working together on film, video and media projects…Student films coming out of Belmont will have great writing, great videography and equally great sound – not to mention great music."
Belmont's Recording and Film Studios Manager Dave Warburton, a recent Nashville transplant from NBC/Universal in Los Angeles, said the Johnson Center's facilities provide students with the chance to work with equipment they will see in the industry. "For our Motion Pictures majors, the Johnson Center includes everything you'd fine in a modern post facility," Warburton said. "The goal is for students to be as prepared as possible to start their careers."
Dean of the Curb College Dr. Doug Howard, a Belmont alumnus and long-time music industry veteran, remembered back to his days on campus as a student when the school's only equipment was one 8-track studio located in the basement of the business school. Thanks to key leadership and vision, Howard said the Curb College is grateful for the facilities and programs it now offers students.
"Our students, faculty and staff are all so very grateful to the university trustees, president and senior leadership for having the vision and commitment to provide such a world-class facility for the next generation of industry creators and leaders that will graduate from Belmont University," Howard said.
To read the full article, click here.