In celebration of Belmont University's Homecoming Week 2022, the Mike Curb College of Entertainment & Music Business took the opportunity to highlight successful alumni in the business in a big way. The "Curb College Alumni Classroom Takeover" included 12 alumni from various sectors of the industry to speak to students in 14 different classes.
Not only were the students inspired by the alumni stories, but the industry enjoyed the opportunity to give back and experience collegiate nostalgia.
"It felt surreal and full circle to come back to Belmont and speak to the Artist Management classes. My career, my business and my music industry story all started here. It was definitely a Homecoming," said Maddy Sundquist, 2017 Music Business graduate and owner of MADKAT MGMT.
A full list of the returning alumni include:
Mark McBryde, Sound Design for Film, Postmark Audio, spoke to the Sound for Picture classes.
Aaron Eshuis, Producer & Songwriter for Smacksongs, spoke to a Demo Production class.
Tyler Norris, Producer & Songwriter, spoke to the students in the Demo Production class.
Kate Myers, Artist Brand Partnerships with Warner Music Nashville, spoke to the Marketing of Recorded Music class.
Maddy Sundquist, Artist Manager/Owner of MADKAT MGMT and A&R Consultant for Elektra, spoke to the Artist Management classes.
Jeanette Porcello, A&R Manager at Atlantic Records, spoke to the Survey of Music Business class.
Lee Krabel, Music Publisher with SmackSongs, spoke to the Intro to Commercial Songwriting class.
Josh Tomlinson, Director of Creative at BMI, spoke to the Songwriting Senior Capstone class.
Allen Howard, Production Coordinator for Taillight, spoke to the Senior Film Project Class for Editors.
Charlene Bryant, Artist Manager/Owner of Riveter Management, spoke to the Building Your Authentic Career in the Entertainment Industry class.
Emma Pettyjohn, Associate Director of Digital & Marketing Strategy with Sony Music Entertainment, spoke to the Marketing of Recorded Music class.
MaryAnn Keen, Associate Director of Writer/Publisher Relations at BMI, spoke to the Business of Songs class.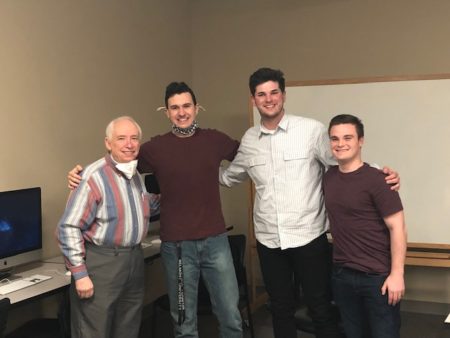 In hopes of inspiring students' career journeys, the classroom takeover was organized by the Curb College's Career Development Specialist Caroline Melby Rupard and supported by Senior Career Development Specialist Nina Woodard and Student Enrichment Coordinator Alex Quattlebaum.