Open now until Dec. 2 in the Leu Art Gallery at the Lila D. Bunch Library, The Healing Through Art exhibition highlights the storied creations of several members involved in the CreatiVets Visual Art program, many of whom participated in the last Belmont cohort.
The inaugural collaboration between CreatiVets and Belmont took place in 2021 and continues to evolve, adding more and more involvement from professors spanning multiple colleges. The three-week program takes place over the summer and always results in a CreatiVets Art Show featuring the veterans involved.
Belmont University and Watkins College of Art recently welcomed speaker Richard Casper, founder of CreatiVets, an organization that offers creative outlets to veterans surviving post-traumatic stress and traumatic brain injuries. Casper, who was recently named a CNN Hero, shared his experience serving as a United States Marine Corps infantryman.
"My own journey of healing through the arts gave me this opportunity to say things without saying it," Casper said at the gallery's opening in September. "It was all art education and music education that ended up saving my life, because it taught me how to tell my story."
Nine years after its founding in 2013, CreatiVets has reached veterans in 49 states. The organization, headquartered in Nashville, has spread to programs across the nation with classes being taught locally at Belmont University as well as The School of the Art Institute of Chicago, University of Southern California and others.
Their songwriting program brings veterans backstage at the Grand Ole Opry to write with number-one songwriters and artists, such as Vince Gill, Justin Moore and Craig Campbell. The artists spend time with the veterans to help them tell their story, and once the song is complete, they get to witness the recording process with some of Nashville's best musicians.
CreatiVets has a deal with Big Machine Label, allowing these songs to be distributed to homes around the world. "Veteran stories written by veterans, for veterans," explained Casper. "The Veterans Association statistics say that there are 20 suicides a day, but 14 of the 20 don't seek help. We knew that if we could get music into those homes, we could pull them out. So if you say 'Alexa, play music by Veterans', it'll say 'here's music by CreatiVets.'"
The origin story of CreatiVets began years before the company launched. In 2007, Casper returned home after four months in Iraq, where he experienced four IEDs (improvised explosive device) and the death of multiple friends right beside him. Grieving, recovering from his own injuries, and searching for what to do next, he enrolled in a community college drawing course as a last resort after struggling in his business classes.
From there, his experience in art education sparked a transformation. "I couldn't even go to a job interview without physically throwing up or getting sick. My anxieties and depression were at an all-time high," Casper said. "So I thought, I'm just gonna go do art and I'm gonna be in these rooms with kids who don't want to talk to me. I didn't want anybody to know my story… My body was picking up on the trauma but my brain wasn't, and art allowed me to finally tap into what my subconscious was trying to communicate." He went on to study sculpture at The School of the Art Institute of Chicago, earning a Bachelor of Fine Arts and creating art focused on the loss of innocence in war.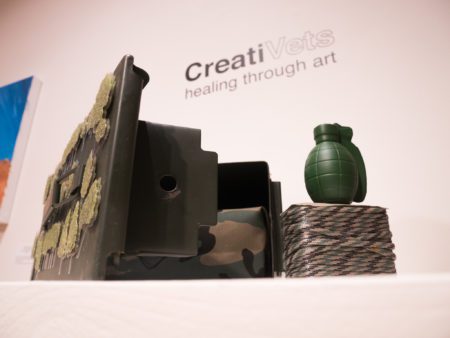 Casper became inspired to bring others into what he calls the "warrior to artist brain" transition. Through programs in visual art and songwriting, CreatiVets empowers veterans to channel their experiences, using art as a resource to expand their identity. They cover the participants' travel expenses, food, housing, and tuition in order to make the opportunity as accessible as possible.
Long term, the organization plans to continue developing its programs and spaces to allow more people to join the community. They want to build a dedicated walk-in space in their facility to assist and teach art on a day-to-day basis to veterans in need. Eventually, CreatiVets hopes to expand its programs directly to the VA hospitals in order to reach veterans before they fully transition out of the military.
To volunteer with CreatiVets, fill out the application form here.