Belmont faculty, staff and students along with alumni and community members attended Courageous Conversations, an event hosted by the Edward C. Kennedy Center for Business Ethics on Nov. 2.
The event was an informal conversation between Rev. Edwin Arrison—development officer for the Desmond & Leah Tutu Foundation and a board of advisor for Belmont's Center for Business Ethics— Rev. John Hilley, a member of the Tutu Foundation's U.S. Advisory Committee.
"When Rev. Arrison started making his plans to come to the U.S. one of the first people he reached out to was John," Director of the Center for Business Ethics Boyd Smith said. "He started the introductory process which is what has brought us here today. Everything they are going to talk about is at the core of moral and ethical foundation. Whether it's in business or in life."
Arrison shared images and stories of his mentor and friend, Archbishop Desmond Tutu, affectionately referred to as 'The Arch.' Tutu received the Nobel Peace Prize in 1984 for his humanitarian work helping to heal the nation of South Africa after the apartheid system was dismantled. From 1948 to the early 1990s, South Africa was under a system that legally institutionalized racism and established racially discriminate separation between the South African peoples.
"(Tutu) was certainly one of those who was able to hold things together, things that are seemingly irreconcilable," Arrison said. "There's a word called ubuntu that he loved to use. 'A person is a person because of other people, or I am because you are.' It's about recognizing the humanity of the other person."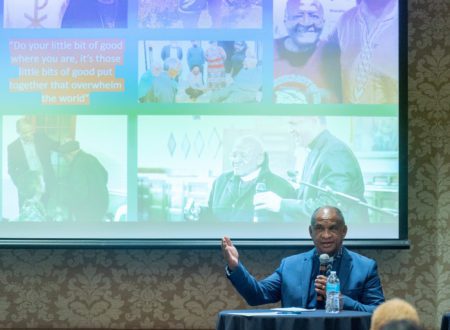 Among the stories and photos Arrison and Hilley reflected on was an image of the Arch visiting the white Dutch Reform Church in Cape Town, the same church known for giving theological justification in favor of apartheid or apartness. Arrison explained how the pro-apartheid message from the Dutch Reform Church was particularly detrimental for anti-apartheid efforts because "with that kind of fundamental position as the foundation, everything else had to be tested against that."
Arrison suggested the Arch's unique leadership style of humility and joyfulness attributed to his profound impact.
"At some point in the early nineties, someone spoke on behalf of the Dutch Reform Church and apologized," Arrison recounted. "Desmond Tutu was the one who got up and said, 'If someone apologizes, I will say I accept your apology.' He was willing to say, with all his gravitas, 'I accept your apology. You are my brother. You are my sister.'"
Desmond Tutu was the first black African archbishop in Cape Town and held the position from 1986 until 1996. He died on Dec. 26, 2021. The Arch's hope and healing legacy continues through the Desmond and Leah Tutu Foundation.
The event concluded with Arrison sharing insights and advice. He also attended a luncheon with campus leaders and spoke in Dean Darrell Gwaltney's senior capstone class in the College of Theology during his visit.