The College of Theology and Christian Ministry (CTCM) hosted special guests this week, as members of the Mobile L'Arche community visited campus. First started by Catholic philosopher-theologian Jean Vanier in the 1960s in France, L'Arche communities provide homes and workplaces where people with and without intellectual disabilities live and work together as peers.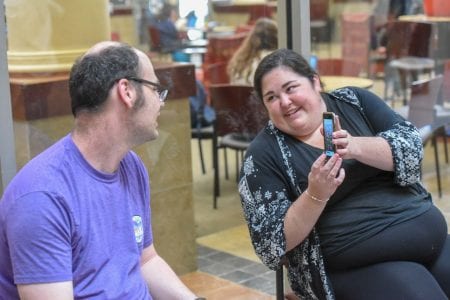 Assistant Professor Dr. Cynthia Curtis said, "These are ecumenically Christian communities who live together under a sort of Beatitudes spirituality (meeting God in human weakness and vulnerability). These communities put the 'core' or developmentally disabled persons at the center of their life together to celebrate them and their gifts. We have sent students to them on alternative spring break immersion trips, and for the past couple of years, they have returned in kind."
During their time on campus, L'Arche residents attended religion and social work classes, had music time with music therapy and music education students, and shared meals with students at the cafeteria and the Service House. Curtis's students also hosted dinners for the group at the Belmont Ministry Center.
CTCM students served as student buddies or ambassadors during the week to walk the visitors around campus during free time so they could experience student life, everything from music performances to the arena to the rock climbing wall.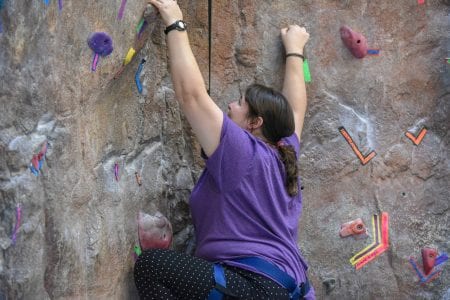 Chris Hodgin, a freshman religion and the arts and music business double major from McKinney, Texas, said, "I worked with three of our buddies, whose names were Mark, Carolyn and Steven. We played a lot of games with them, like Uno and Jenga, and later that night we also had a dinner party with them, where we sang songs together and ate food. From this experience, I learned that there I people who I naturally tend to alienate merely because they are different than me, and that when I intentionally try to remove the mental barriers that keep me from loving them and enjoying spending time with them, I find that they're a lot more similar to me than I had ever imagined."
Sarah Bielefeld, a freshman from Denver, Colorado studying church leadership and administration with a minor in international business, noted that she wanted to be a part of this event because she loves getting to know people. "Almost as much as I love people, I love learning, and the best way to learn is by listening to others and their stories. Everyone has a unique story and something they have to share to the world, and I feel like I have been given the privilege to be surrounded by countless people I can learn from. The L'Arche community especially has numerous characteristics that society should strive to embody on a larger scale… I feel incredibly lucky to have seen the genuine compassion embodied by the L'Arche community, and I feel like I learned on a deeper level the transformation a person can experience after simply being told that they are loved and worthy."