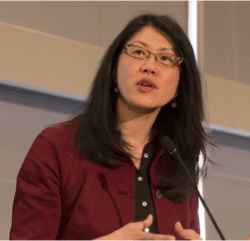 Belmont's College of Sciences and Mathematics Environmental Science Program recently hosted Dr. Karen Seto from Yale University for the 13th Annual Environmental Science Lecture. Her talk was entitled "Urbanization Trends in China and India: Environmental Opportunities and Challenges." Seto is the Frederick C. Hixon Professor of Geography and Urbanization Science, Senior Associate Dean for Research and Director of Doctoral Studies at the Yale School of Forestry and Environmental Studies.
An urban and land change scientist, the overarching objective of her research is to understand how urbanization will affect the planet. Her research uses a combination of satellite remote sensing, socioeconomic and biophysical data, field research and modeling methods to characterize urban land-use, understand the drivers of urban land-use change, forecast urban expansion and assess the large-scale environmental consequences of urban expansion. She has pioneered methods to reconstruct land-use dynamics with satellite data and forecast the expansion of urban areas.
Seto was one of two coordinating lead authors for the urban chapter of the "IPCC Working Group III Fifth Assessment Report," and has served on many U.S. National Research Council Committees including the recent NRC Committee on Pathways to Urban Sustainability. From 2000 to 2008, she was on the faculty at Stanford University where she held joint appointments in the Woods Institute for the Environment and the School of Earth Sciences. She is an Aldo Leopold Leadership Fellow, an elected fellow of the American Association for the Advancement of Science (AAAS) and a member of the U.S. National Academy of Sciences. She has a PhD in Geography from Boston University.