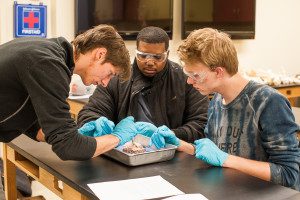 Belmont recently held its 2015 Brain Awareness Week (BAW), an endeavor sponsored by the Biology and Psychological Science Departments as part of the global campaign to increase public awareness of the progress and benefits of brain research. Held every March, BAW unites the efforts of partner organizations worldwide in a celebration of the brain for people of all ages.
Belmont's celebrations, focused around this year's Concussion and Brain Injuries theme, included the following free and open to the public events:
"Looking Beyond the Headache: Sports Concussion Investigations using MRI" was hosted by Dr. Victoria Morgan from Vanderbilt University on Monday, March 16. Dr. Morgan showed brain images (MRIs) that illustrate the changes that occur as a result of concussion injuries.
Samantha Nadler from the Tennessee Suicide Prevention Network spoke on Monday, March 16  on common warning signs of suicide.
The Psychology Club hosted a "Psycho Screening and Discussion" on Tuesday, March 17. Dr. William Bailey from Belmont's Psychology Department led a discussion following the viewing on aspects of psychoanalytic theory.
"Concussion in Youth Sports" was presented by Tim Lee (MHA, MS, ATC) from Vanderbilt Sports Concussion Center on Wednesday, March 18. Lee provided information about current standards for concussion awareness and athletic safety.
Vanderbilt University's Scott Zuckerman discussed brain surgery as a necessary treatment for brain injuries on Thursday, March 19 at his presentation entitled, "Sports and Brain Surgery: The Growing Epidemic of Sports-Related Concussions."
"Structure and Functions of Your Brain" was presented by Belmont Biology Professor Dr. Lori McGrew on Friday, March 20. In this brain dissection activity, junior and senior biology and neuroscience majors mentored non-science majors as students located important brain structures and consider structure-function relationships.
On Friday, March 20, Larry Pollard, a special agent with Tennessee Highway Patrol, explained how polygraphs detect physiological changes in the body.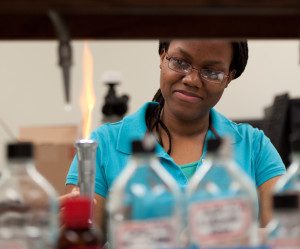 Psychology Department Chair and Associate Professor Dr. Linda Jones said because many students have not had previous experience with neurological research, there are a number of misconceptions pertaining to the brain and its behavior. Through this exposure, BAW impacted student learning and engagement. "The convocations sponsored by the College of Sciences and Mathematics will expose students to new information and new perspectives on the brain," Jones said.
With President Obama's recent focus on important advancements in the neurological science fields and his declaration of "the decade of the brain," Belmont Biology Professor Dr. Lori McGrew said it's important to educate students on advancements that have been made, empower them to understand the developments and continue to be involved in the neuroscience community.
"Brain Awareness Week events are an important way in which CSM and Belmont University can provide accurate information about brain function and current research," Dr. McGrew said. "CSM's activities operate largely on the ripple effect – we focus our efforts in communicating across campus, knowing that the students who attend BAW activities will spread the knowledge to their friends, families and community after Belmont."
For more information on Brain Awareness Week, click here.