Belmont University College of Pharmacy faculty, recent graduates and student members of the Student National Pharmaceutical Association recently volunteered at a medical and dental clinic held at Riverside Chapel Seventh-Day Adventist Church. The group assisted in providing services at the on-site pharmacy led by Belmont College of Pharmacy Associate Professor Dr. Hope Campbell.
The Belmont pharmacy team helped perform a variety of tasks at the clinic as they provided technician support, dispensed over 70 scripts and counseled patients. They screened 30 patients for osteoporosis and helped more than 20 patients select appropriate reading glasses.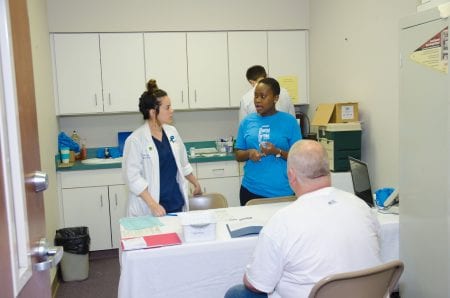 In addition to volunteering at the clinic, students completed medication inventory management, pharmacy set up and pre-counting of fast-moving clinic items.
Associate Professor Dr. Campbell said that the Belmont College of Pharmacy team, "truly lived up to its mission of serving the undeserved. Even when students graduate and are now practicing pharmacists, they can not help but return to continue the tradition of service."