Collectively, students served more than 3,300 patients during 18 days of clinics
Belmont University's College of Pharmacy sent students abroad this summer on medical-related missions trips to both Honduras and Cambodia led by faculty members Dr. Tracy Frame and Adam Pace and College of Pharmacy Dean Dr. David Gregory. Though each trip visited a different place, they sought out a similar goal — to impact the lives of the patients they served.
Assistant Professor of Pharmacy Tracy Frame's interprofessional team, made up of both undergraduate and graduate nursing students, pharmacy students, a social worker and five faculty members, spent 10 days in Cambodia facilitating an all-student run clinic that saw more than 700 patients. Developed by the students before leaving the States, the clinic's protocol allowed each patient the opportunity to be seen by undergraduate nursing students to have vitals evaluated, treated by a graduate nursing student and then counseled and prescribed medication by a pharmacy intern.
Frame's dedication to student service experiences is a foundational part of her teaching philosophy. "This generation of students loves experiences and getting involved," she said. "They want to take initiative, have a voice and be transformed. Additionally, students learn more by getting involved in hands-on service experiences than by sitting in my classroom. Watching them serve and love others is when I see them happiest and the most content in their own lives."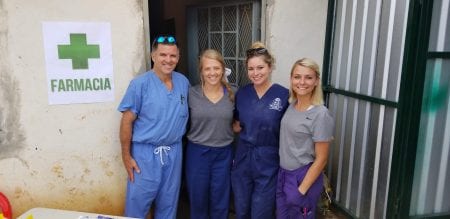 Traveling to Gracias, Honduras with the "Mission of Harmony," Gregory's team included two pharmacy students and one undergraduate Spanish major who spent time serving throughout the group's clinic. The pharmacy students worked with each patient after they had seen the health care provider, selecting the proper medication for the patient's disease along with the appropriate medication management parameters. But their work didn't stop there.
Though a considerable amount of the group's efforts was medical in nature, Gregory said the service they completed in Honduras goes so much deeper than what can be seen in a health record. "A patient's life is so much more than their medication," he said. "Pharmacy can be a tool in helping each person live a better life, but it's not the most important aspect. Pharmacy is what God has allowed me to do with my life, but these trips are about so much more than that. It's about fulfilling human needs, not just medical ones. And that's a transcendent cause."
Pharmacy Manager and Associate Professor Dr. Adam Pace took his group to Copan, Honduas where they implemented a clinic that facilitated health care to local residents and provided "family packs" complete with hygiene items, vitamins and parasite medications. While there, the group was able to share their faith with the patients they served.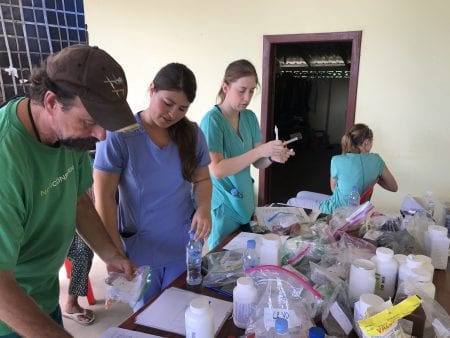 Pace said he sees service learning as the ultimate expression of his faith. "As Christian faculty, it is our duty to model Christian love before our students," he said. "I can think of no better way to do that than to take them with me as I serve and try to show the love of Christ to the world."
Beyond a physical expression of his faith, Pace said he sees the experience as a way to ensure his students have the opportunity to experience the blessings of their lives in a tangible way. "I hope they gain a fuller sense of the privilege we all enjoy and the obligations we have in this privileged environment. I hope they also have a heightened sense of the importance of what our profession offers by seeing what happens in its absence."
Trip participant and Pharmacy student Camry Kerley said the opportunity to travel alongside her team to Honduras was an excellent experience that only strengthened her passion for missions through medical care. "Everything was so different from home," she said. "The language, the lifestyle, the surroundings and peoples' attitudes–Honduras is unlike any place I've ever been, and this experience was definitely one of a lifetime. After the completion of this trip, I feel more confidence in my pharmacy knowledge and reassured of my passion for missions."
All missions trips facilitated by the College of Pharmacy are open to non-health care majors who are interested in participating and are financially supported by the College's Golf Fundraiser.