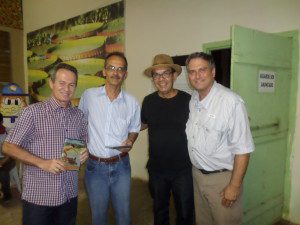 Dr. Eric Hobson, professor in Belmont's College of Pharmacy, was the featured scholar at the "Colόquio Internacional: Matto Grosso Expedition (1931)" recently held in Cáceres, Brazil by the Universidade do Estado de Mato Grosso (UNEMAT).
His seminar, "Why Descalvados? Mato Grosso Expeditions Between the Wars," helped to fill gaps in the Brazilian historical record about non-Brazilian scientific exploration activity along Brazil's western frontier in the early twentieth century.
Dr. Hobson joined UNEMAT history faculty and graduate students on a two-day research trip down the Paraguay River to Fazenda Descalvados — the largest ranch in the western hemisphere during the early 1900s — which served as base camp for many exploration/scientific teams from the United States, including the Theodore Roosevelt/Colonel Rondon Expedition of 1914.