Belmont University's College of Pharmacy hosted the Third Annual Middle Tennessee Antimicrobial Stewardship Symposium this morning in the Janet Ayers Conference Room on Belmont's campus. The event was planned and hosted by Dr. Montgomery Green, associate professor of pharmacy practice, Dr. Erin Behnen, associate dean for assessment and academic affairs, Laura Hyde, continuing education coordinator and Dr. Shaefer Spires, assistant professor with Vanderbilt University School of Medicine.
The symposium was attended by more than 125 healthcare professionals from multiple disciplines including pharmacists, physicians, nurses and those involved with infection prevention and patient safety and quality from 7 states and more than 50 healthcare facilities. Several alumni, preceptors and Belmont faculty were in attendance, as well.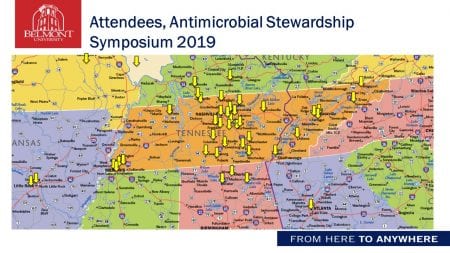 "Being a part of the Symposium and witnessing it's continued growth and development over the last three years has been thrilling," Green said. "Our vision to create an avenue for healthcare professionals to network and collaborate to enhance antimicrobial usage throughout our state and region has continued to be realized. This event continues to reinforce Belmont University and the College of Pharmacy as innovators and advocates of this important issue in healthcare in our state and beyond."
Morning sessions featured a lineup of experts in antimicrobial stewardship. These included Christopher Evans, PharmD, BCPS, HAI pharmacist, Tennessee Department of Health Healthcare Associated Infections and Antimicrobial Resistance Program; Whitney Nesbitt, PharmD, BCPS, BCIDP, antimicrobial stewardship pharmacist, Vanderbilt University Medical Center; Kristi Kuper, PharmD, BCPS, senior clinical manager, ID at Vizient, Inc. and Elizabeth Dodds Ashley, PharmD, MHS, FCCP, BCPS(AQ-ID), Duke Antimicrobial Stewardship Outreach Network (DASON). The morning's keynote speaker was CAPT Arjun Srinivasan, MD, associate director, Division of Healthcare Quality Promotion, Centers for Disease Control and Prevention, who gave an update on national activities regarding antimicrobial stewardship.
During the afternoon, participants attended workshop sessions led by pharmacists, physicians and laboratory personnel, allowing them the opportunity to discuss topics in a small group format. Topics included antimicrobial stewardship (AS) programs in long-term care facilities and emergency departments, procalcitonin, AS practices in the NICU, national reporting and joint commission requirements. This symposium brought together key stakeholders and practitioners to learn about these topics and discuss ways to work together as a medical community to improve appropriate antimicrobial use and mitigate risks.
"This year's Symposium was a monumental success, bringing together participants from multiple states for networking, collaborating and to learn from nationally and internationally recognized experts," Spries said. "It has become a reliable venue where the "boots on the ground" have a place to come together and be rejuvenated and bring back tangible outcomes to their respective Antimicrobial Stewardship Programs. The growth and support this Symposium garners each year is invigorating to see and just be a part of."
The 4th Annual Symposium is scheduled for January 31, 2020.