The College of Pharmacy's student American Pharmacists Association (APhA) chapter, advised by Dr. Traci Poole, had 20 attendees at the annual Midyear Regional Meeting, held in Atlanta, Georgia, Oct. 24-26. Student pharmacists participated in various professional development activities and networking events with students from 24 schools and colleges throughout the southeast.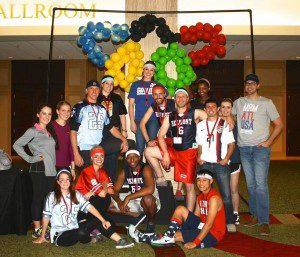 The festivities were kicked off when second-year pharmacy student Kayla Hill was announced as Belmont's Student Membership Recognition winner due to her work as Fundraising Chair. Belmont second-year student Kathryn Litten participated in the Prescription Relay Race, where she worked with three other student pharmacists from different schools in filling, verifying and counseling a "patient" regarding their prescription.
Third-year student Alexander Tu stayed true to this year's national theme of "Discover Your Voice," by running for the regional position of Midyear Regional Meeting Coordinator. Tu amazed the crowd with an informative and humorous speech which led him to victory. With Tu's win comes the opportunity for the College of Pharmacy to host the 2015 Midyear Regional Meeting in Nashville.
Belmont second-year student and Vice President for Policy Melanie Beaty successfully proposed policy developed by Belmont's chapter to the Regional House of Delegates regarding promoting patient access to nontraditional therapies and alternative delivery systems via compounds.