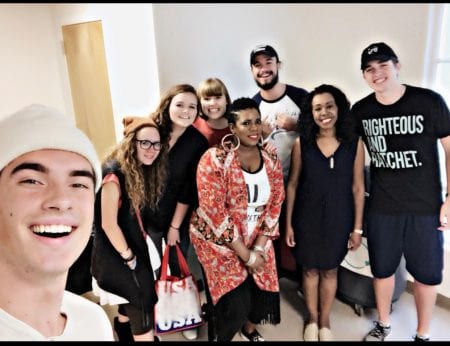 Belmont's College of Entertainment and Music Business recently hosted a spiritual development retreat, Forge, where students from the college learned spiritual practices useful for life and work in the entertainment industry and beyond. The retreat was held at the Belmont Ministry Center and was supported by faculty members Amy Smith, Mark Maxwell and Viviana Goelkel; staff members Rebecca Berkowitz, Angela Breedon, Kellie Meeks and Ileia Hook; University Ministries leaders Heather Daugherty and Christy Ridings and College administrators Dean Doug Howard and Associate Dean Dr. Cheryl Slay Carr.
Key industry leaders were also present including VP and General Manager of Entertainment One Gina Miller and songwriter/producer Tim Lauer.
Activities covered throughout the experience included scriptural meditation, the use of poetry of a vehicle for reflection, director prayer, creating a 'faith map' for students to better understand their own spirituality, journaling, visual art and more.
The idea for the Retreat originated with a vision Slay Carr had for students as an outgrowth of her own faith and understanding of spiritual practices. "I believe our students need our support in any number of areas," she said. "As a Christian college, this is on mission."
For Slay Carr, Forge was key for student development for a number of reasons including their ability to influence the future of the entertainment industry as budding professionals and to ensure they are equipped to handle the challenges that will come with their careers. "Students are hungry for this kind of experience and were grateful for it," she said. "It also allowed us as faculty, staff and administrators to connect with students in a different way; not around curriculum or extra-curricular activities or sermons or classes or anything preachy or directive. This was about retreating to connect with God privately and collectively and being equipped to channel that experience vocationally, personally and beyond."