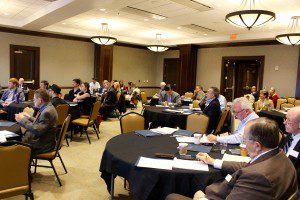 Belmont's Jack C. Massey College of Business hosted its inaugural Business Ethics Workshop on Friday, Nov. 20. Speakers for the event included:
Rich Brody, fraud prevention and forensic accounting global leader from University of New Mexico
Zabihollah Rezaee, internationally recognized expert in sustainability from University of Memphis
Terry Clark, professor of marketing from Southern Illinois University Carbondale
Harry VanBuren, corporate responsibility expert from University of New Mexico
John Fraedrich, co-author of a leading business ethics textbook and professor of ,arketing and jannetides chair at SIU Carbondale
Jan Williams, former dean of the Haslam College of Business at the University of Tennessee and emeritus faculty
Pat Raines, dean of the Belmont's  College of Business
Harold Fogelberg, director of the Edward C. Kennedy Center for Business Ethics
Shinobu Garrigues-Pula, corporate counsel with Caterpillar Financial
Alfonzo Alexander, president of the NASBA Center for the Public Trust
The workshop was co-chaired by O.C. and Linda Ferrell, distinguished professors of leadership and business ethics at Belmont, and was designed to help faculty and graduate students understand emerging topics and best practices in teaching business ethics and applying these critically important concepts.
Linda Ferrell said, "Belmont University is in the unique position of being able to take a leadership position in business ethics. The Edward C. Kennedy Center for Business Ethics, Jack C. Massey College of Business faculty and national connections through the NASBA Center for the Public Trust, Daniels Fund Ethics Initiative and work with a variety of businesses give the University some unique experience and capability."
O.C. Ferrell said, "Attendees from Colorado, Michigan, Pennsylvania, Florida, Illinois and New Mexico represented the diversity of interests and the importance of discussions of business ethics education. There was a real electricity in the room and attendees were engaged and interactive as they spent they day immersed in business ethics discussions."