Students get in the holiday spirit with opportunities to work, attend TV taping
The Curb Event Center was beyond transformed Thursday night, as anyone entering the entertainment and athletic arena would easily believe they'd been transported to the center of Santa's village at the North Pole. Twinkling lights, 20-foot Christmas trees, an array of wrapped packages and musical legends decked in their holiday finest all adorned the stage for the taping of the annual "CMA Country Christmas" event. Nearly 3,000 fans-including numerous Belmont students and employees–were able to enjoy live performances from host Reba McEntire, Tony Bennett, Diana Krall, Brett Eldredge, Michael W. Smith, Amy Grant, Martina McBride, Old Dominion, Brad Paisley, Lindsey Stirling, The Isaacs, Dustin Lynch, Brett Young and Dan & Shay.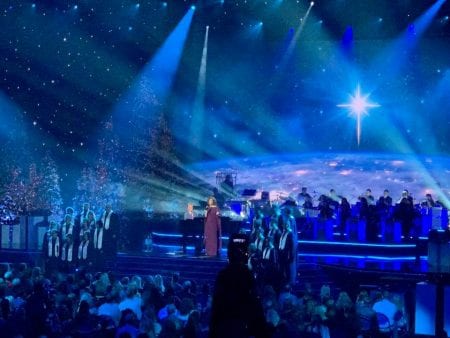 A number of students participated behind-the-scenes in the making of the event, working hand-in-hand all week with the production team. Junior Katie Kuhnash, a music business major from Centerville, Ohio, noted that this experience will help expand her professional network. "As PAs/runners, our main duty is to perform any task that the producers do not have time to  complete, anything we can do to make their lives easier and make sure everything runs flawlessly."
Senior commercial music major David Cistrunk hopes to one day be a Christian singer/songwriter/worship leader, and the Detroit native appreciated how being behind-the-scenes of this event gave him new insights on his future career. He spent time this week "assisting with load in and stage setup and assisting the production coordinator with planning day to day activities, as well as the prop maker with getting everything needed for building set pieces. I believe that being a production assistant teaches you to appreciate all the work that goes into making a production successful. It also teaches you great work place etiquette, while learning how it truly takes a team to make a successful production."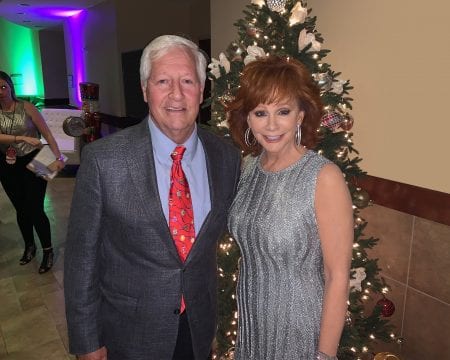 For junior entertainment industry studies major Dominique Detwiler, who hails from Buffalo, New York, her future plans aren't set as she loves live production (serving on staff for Showcase Series this year) as well as music supervision/licensing, noting she might someday enjoy building soundtracks for films. She call her experience being backstage assisting with the event was "surreal," one she anticipates will impact her work at Belmont and beyond. "My everyday duties change by the hour and are based on whatever is needed in the office and around the arena. This can range from hanging up signs to signing out credentials, to picking up crew members from the airports to picking up crew dinners. Anything and everything that needs doing, I do… I am so excited to take the things I have learned throughout this experience and apply them to our section of the Belmont community. I hope to introduce an elevated level of professionalism to the Showcase experience with all I have learned this week!"
Approximately 60 students served as production assistants, talent escorts or seat fillers for this event. The "CMA Country Christmas" show will air nationally on ABC during the holiday season.