Belmont University recently announced the Career Outcomes Rate for its Class of 2018, a strong 94%, exceeding the national average by 13 points.
Those numbers, often referenced as an institution's "First Destination Rate," measure the percentage of graduates who secure employment, enroll in graduate school or enlist in military service within six months of graduation
For Belmont, which draws that information from student and alumni surveys, the most recent rate is 94%, tying the University's rate for the Class of 2017. Of those, 84% were employed, while 9% were pursuing continuing education and 1% enlisted in volunteer or military service. Even in a time of low unemployment across the country, Belmont's 94% rate far exceeds the 81% national average .
Mary Claire Dismukes, director of the Office of Career & Professional Development, said, "Belmont graduates are prepared. Nearly 75% of graduates complete at least one internship during their educational experience and the majority of students complete more than one. We believe this practical experience along with the excellent teaching students receive in the classroom provides skills for success ."
The data supports Dismukes' theory. More than one-third of survey respondents indicated that an internship helped them find or obtain their current job. Plus, Belmont students are coming to full-time positions with global awareness as 35% of graduates noted they had participated in short-term Study Abroad during their time at Belmont.
Dismukes added that experience and skillset aren't the only factors that make Belmont students such a draw to companies. "Employers always share that Belmont students are amazing–they stand out for their strong work ethic, curiosity, collaborative spirit and positive attitude."
Kate Dean, a public relations major with a minor in Christian leadership, secured a position as a pharmaceutics sales representative with Eli Lilly. She promotes Lilly's neurosciences portfolio in primary care offices around her Memphis territory, which of late means promoting the company's new migraine medication.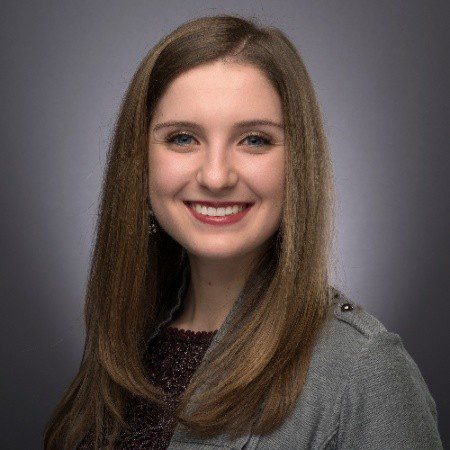 "I had moved to Memphis immediately after graduation so that my husband could start medical school," Dean said, "and I found myself in a new city at square one of the job search. To be honest, it was both intimidating and terrifying. It was amazing, however, that even after graduation during those awkward job searching months, I was able to stay in touch with professors and mentors from Belmont (shout out to Dr. Bonnie from the PR Department and Rachel from Career Development👋🏼) to help guide me through making connections in a brand new city. Only at a school as special as Belmont would one have that support even after graduation. I'm so deeply grateful unto the Lord for these sweet gifts!"
Belmont's Career Development Team consists of experienced professionals who offer individualized assistance to current Belmont students and graduates. They partner with a number of local and national employers to connect individuals to job opportunities. From organizing large-scale career fairs to meeting one-on-one with current students and graduates seeking professional career coaching, the Career Development staff plays a critical role in Belmont's efforts to promote the best possible outcomes for students' education.
For Belmont's Class of 2018, the work of Career Development staff translated to helping students find positions in a variety of different companies including HCA, Warner Music Group, Live Nation Entertainment, ASCAP, Monroe Carell Jr. Children's Hospital, St. Thomas Health, Nashville Predators, Dollar General, Aegis Sciences Corporation, International Justice Mission, Young Life and Ryman Hospitality, among many others.
The Office of Career & Professional Development is dedicated to focused engagement with students and graduates. Staff specialize in majors and industries based on career clusters, working directly with specific colleges across campus, an effort that allows them to tailor their services to students and graduates as well as connect with employer partners in related fields. And the office's functions span a wide range of activities as they encourage career exploration, develop educational and professional partnerships and provide intentional career development programming.
For more information on the Class of 2018, visit the Student Outcomes page.
Want to know more about the programs and application process for Belmont University? Visit the Admissions website.