Your phone suddenly vibrates while walking through Hillsboro Village, and with a quick glance you discover that one of the neighborhood's retailers is offering you 25 percent off a favorite product. Walk a few more yards, and your cell notifies you again, this time of the upcoming movie schedule at the nearby theater.
Creepy or not, such technology isn't all that futuristic—rather, it's currently available thanks to Apple's iBeacon positioning system, a new class of low-powered, low-cost transmitters introduced this year that can notify nearby iOS 7 devices of their presence. Though Beacon technology has not been widely implemented, companies around the world are currently investigating ways the system might be used to boost sales, promote products and increase branding.
Belmont Assistant Professor of Information Systems Management Dr. Bryon Balint thought iBeacons could make a perfect experiential learning opportunity for his fall 2014 Electronic Markets (MIS 3680) class. The course examines the impact of the Internet on the ways that organizations function.
Balint said, "Specifically, we look at the Internet as both a sales channel for physical products as well as a system for the sale and delivery of digital products and services. The class also looks at the ways companies use the Internet for branding, marketing and advertising. Naturally, mobile technology and social networking are also heavily embedded in everything we discuss."
For this assignment, Balint brought ComputeCycles Founder Van Simmons to campus because the mobile software entrepreneur is seeking to develop a new platform using iBeacons that he can then adapt and sell to a number of businesses in the same industry.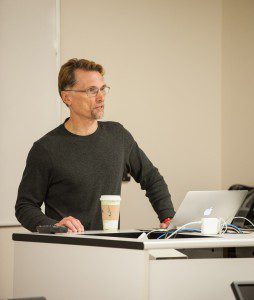 "ComputeCycles is interested in launching a product or service that will use Beacon technology and Apple's new iPay system," explained Balint. "The general idea is that people will be able to order products on their iPhones, pay for them and have those products delivered to a very precise location. My students heard the basic pitch and then pursued market research, revenue models and a business strategy for this technology."
Student Steven Bell noted,"The innovative thought process that Van has really opened the doors to a new concept that the world will soon be introduced to. It was truly inspiring and opened my mind up to alternative solutions to current processes."
In a late November presentation to Simmons, students offered myriad ideas across a wide spectrum of business ventures. One student presented on a Major League Baseball app for stadiums that makes the fan's experience more efficient, and that, with the help of iBeacons, could go even further through providing step-by-step park directions, ticket upgrade offers, concession discounts and royalty programs. Another student suggested how major department stores might use the technology to track where people visited within the retail outlet, allowing them to better promote products of interest.
Simmons fully acknowledged the new technology can also create negative perceptions as consumers voice concerns over tracking, privacy, advertising overload and the usefulness of many mobile applications. However, he also noted, "Your Google search history is like a diary of your entire life… Give people a service they actually want, and they will pay you to take their privacy."
Other prospective markets the students suggested for iBeacons included neighborhoods/cities that attract tourists, coffee shops, airports and movie theaters. Balint plans to continue the project next semester with another class.