Producer/engineer recognized for contributions to music industry and education
Veteran producer/engineer and Belmont alumnus Chuck Ainlay was presented the 2017 Robert E. Mulloy Award of Excellence from the University's Mike Curb College of Entertainment & Music Business last night, Tues., Dec. 5. The Curb College established the Award of Excellence in 2008 in memory of program founder Bob Mulloy to annually recognize an individual who has achieved a level of excellence in the music business and entertainment industries with notable service to Belmont University and the Nashville community.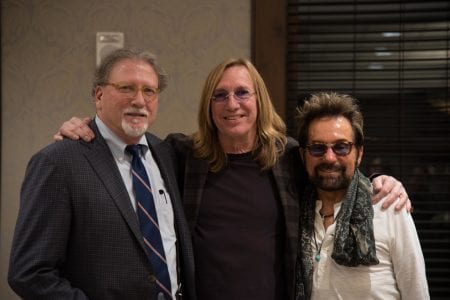 Curb College Dean Doug Howard said, "It is an honor to shine a light on Chuck Ainlay for his outstanding career accomplishments and to express our deepest appreciation for his contributions to the music industry and to Belmont's Curb College. Chuck is truly an engineer/producer extraordinaire who is loved and respected by the artists, engineers and industry professionals who have had the great fortune to benefit from his amazing talent."
Ainlay added, "I'm extremely humbled to receive the Robert E. Mulloy Award of Excellence from Belmont University. To be included alongside the previous outstanding and distinguished recipients is especially gratifying, as this award not only recognizes the individual for their personal achievements in the industry but also for their service to the community. For this Indiana boy who loved music, making the choice to go to Belmont was one of the best decisions I could have made as a teenager. Today, I am still grateful for all that Belmont University has given me and still continues to do. Thank you."
After working as an assistant engineer at various studios on Music Row, Ainlay was hired as the chief engineer at the Castle Recording Studio, crossing paths with famed producers Jimmy Bowen and Tony Brown and launching Ainlay into a career as an independent engineer.
Throughout his acclaimed 30-year engineering career, Ainlay has worked with many of the world's finest artists, musicians and producers and developed a diverse list of clients that ranges from George Strait to Dire Straits. His engineering dominance in the country field has been recognized by many, including with multiple Grammy nominations for his numerous critically and commercially successful albums. The Nashville Music Association named him Engineer of the Year in 1996 and again in 1997, and Music Row Magazine voted him the 'Engineer with the most Top Ten Hits' in 1998 while the years 1999 and 2000 brought with it nominations for the prestigious TEC award from Mix Magazine.
Ainlay's long-standing collaboration with Mark Knopfler has resulted in two albums by Dire Straits, as well as production and engineering credits on several of Knopfler's multi-platinumsolo albums. This partnership has also produced two movie scores for the films "Wag the Dog" and "Metroland." Many within the audio industry also regard Ainlay as a leader in cutting-edge technology as he produced the first all-digital recording out of Nashville.
His community involvement includes serving on the Board of Governors and The Producers and Engineers Wing of NARAS, Leadership Music, SAE Advisory Board and the Nashville Chapter Board of the Audio Engineering Society.
Past recipients of the Robert E. Mulloy Award of Excellence include Troy Tomlinson, Gary Overton, Donna Hilley, the International Entertainment Buyers Association, Vince Gill, Mike Curb, Clair Audio and Bandit Lites.