As a result of Belmont University's new international exchange partnership with Zhengzhou University located in central China, four Chinese students had the opportunity to travel to the United States to become official Belmont Bruins for the fall semester.  Since their arrival in August, they have been in the process of adjusting to differences in cultural customs, school workload and new academic expectations.
Zhengzhou University students Ivy, Estelle and Verona, all junior English majors, first learned about the opportunity to come to Belmont when they were required to attend a lecture given by an American educator, Dr. Ronnie Littlejohn, who is the director of Belmont's Asian Studies Program. Ivy said she grabbed the hands of her two best friends, Estelle and Verona, when Dr. Littlejohn began talking about Belmont and said to them, "We have to go."
The next several months were full of challenges as the students tried to obtain U.S. visas during their finals week and prepared to take the International English Language Testing System (IELTS) exam. Verona recalled the uncertainty she felt during the process of preparing to travel abroad. "I was not sure if I should take the risk to come to Belmont or not. After all, it was my first time to study abroad and the brutal fact I had to face was that I needed to study together with American college students, with whom I felt sure I was not on the same level," Verona said. "I was also afraid that I would not be able to keep up with the professor completely.  Still, I thought, I am 20 years old. I am not a child anymore. My desire to see the outside world drove me to be brave."
Ivy, Estelle and Verona met freshman Olivia, who was also traveling to Belmont from Zhengzhou, when they arrived in the U.S. The four were moved into Thrailkill Hall and began their experience of learning more about the American way of life.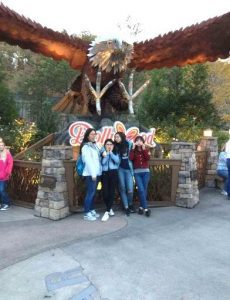 The first few weeks were not easy, as the students faced challenges with making friends, handling the amount of assignments they received and trying to understand the overall culture they were surrounded by. One thing that threw them off guard was the difference between American and Chinese greetings. "Almost every American I met would ask 'How are you today?' and then gave me a hug even if we just met each other for five minutes," Ivy said. "Though I felt a bit weird with this unusual ritual, I would still answer their question seriously. But I found out that usually they wouldn't listen to what I said and they kept moving, which made me feel awkward and confused. In China, when we ask another person this question, we want to know more about that person's answer. Here, it simply is a way of greeting."
The students also struggled with the difference in workload in their Belmont classes. They weren't used to the amount of preparation work they had to complete before each class, and they had never heard of MLA format as a style of writing. Ivy mentioned that these academic barriers were stressful for her as she had been top of her class at Zhengzhou and felt a pressure to keep up with her own academic standards.
One of the connections the students established during their time at Belmont, however, helped to ease their minds about some of the struggles they were facing. Dr. Qingjun Li, associate professor of Asian studies and Chinese language, was a professor at Zhengzhou University before coming to Belmont to pursue her master's degree. The students were able to seek Li's advice and reassurance throughout the semester to help get them through the days that were challenging.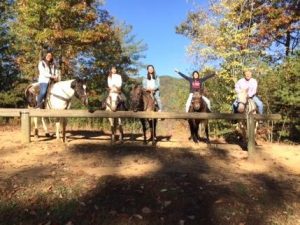 Aside from their lives as students at Belmont, Estelle, Ivy, Olivia and Verona were able to spend several weekends traveling and exploring other parts of the state and country. They went horseback riding in the Smoky Mountains, explored the vast wonders of Dollywood and even took a trip to New York City. They have cherished the time they've spent immersed in American culture and are sad to leave campus after final exams end. "I have been at Belmont for nearly four months now. It is more and more like a home for me," Ivy said. "It is really surprising when you are not ready to leave a place to which you were not ready to come at first. It is always hard to say goodbye. But I have heard it said that we leave something of ourselves behind when we leave a place. We stay there, even though we go away. I appreciate that I have had a chance to leave part of me in this beautiful campus and the memories of this past semester will be my lifetime treasure."
Littlejohn reflected on the ways in which he saw the students grow over their time at Belmont. "Our first semester with the Zhengzhou University exchange has been an unqualified success. The Chinese students have showed great courage and adventure, branching out from courses in English literature to communications, critical thinking in the Philosophy Department, and three of them have studied French.  All of these courses will go back to their home university and count on their degree plan."
Belmont currently has 21 international exchange partnerships with some of the most prestigious universities across the globe and its international education program is continuing to flourish. During the fall semester, Belmont took in 23 international exchange students, which is the most the university has ever taken in at a single time. Belmont also sent out 10 students as a result of these partnerships. With partner agreements with universities in countries like Hong Kong, Denmark, Spain, Australia, France and many others, students have more opportunities than ever to increase their global awareness. These agreements also allow Belmont to exchange knowledge and research with other leading universities around the world.
Director of International Student Services Dr. Kathryn Skinner said that most partnerships begin with some kind of academic connection, usually through a faculty member who has contacts at an international institution. The department looks to build partnerships with universities that have similar philosophies and characteristics as Belmont, such as the size of the school and the surrounding environment, to make the transition easier on students. Skinner says the goal of bringing international students to Belmont is to enrich the campus community and help lessen uncertainties and stereotypes that students may have about other cultures or parts of the world. She described it as a way for students who can't participate in study abroad programs to increase their global awareness without leaving the country.
For a full list of Belmont University's exchange partners, or for more information about applying for programs, click here.