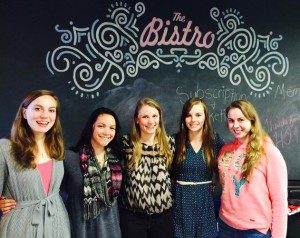 Five students from Dr. Kimberlee Daus's Organic Chemistry I class competed in the Nov. 5 inaugural Middle Tennessee STEM (Science, Technology, Engineering, Mathematics) Poetry Slam Competition.  The contest, open to area high school and college students, was presented by the Middle Tennessee STEM Innovation Hub, which recently moved to Belmont's campus.
Students presented poems that explained a challenging STEM concept or inspired young people to pursue STEM-related fields. All poetry was written and performed by the entrant. Daus's students were invited to enter the contest to address difficult content in organic chemistry.
Students Sydney Gangluff, Angel Brothers, Sarah Cannavino, Miranda West and Kathryn Hook were selected as 5 of the 16 finalists.  Hook and West were selected as top winners in the science category.  Their entry, entitled "Mechalicious," explained the difference between SN1 and SN2 reaction mechanisms.
To view their video, click here.