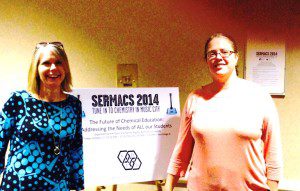 Several Chemistry department faculty members and students recently participated in the Southeastern Regional Meeting of the American Chemical Society (SERMACS) held in Nashville, TN, Oct. 16-19. American Chemical Society Regional Meetings are organized by ACS Local Sections and reflect the diverse professional interests in their geographic regions. These meetings feature technical programs on a variety of topics, poster sessions, expositions and social events.
On Oct. 17, Chemistry professors Drs. Rachel Rigsby and Kimberlee Daus moderated the symposia on "The Future of Chemical Education:  Addressing the Needs of ALL our Students."  In addition to proposing the symposia and inviting speakers, Daus and Rigsby also presented a session entitled "The Power of Experiential Learning: Leveraging your General Education Curriculum to Invigorate your Chemistry Courses."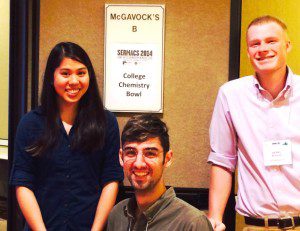 On Oct. 18, three students from Belmont's SMACS (Student Members of the American Chemical Society) organization participated in the SERMACS Undergraduate Program College Chemistry Bowl.  The Belmont team of Chemistry majors, Ryan Agh, Victoria Lim and Daniel Beagan, competed against the University of Alabama – Birmingham on chemistry topics of organic, nuclear, and inorganic chemistry.
Senior Victoria Lim, a double major in chemistry and mathematics, presented in the Undergraduate Research Symposium: Physical Chemistry I on Oct. 17. Her presentation was titled "Computational Analysis of Conformational Tunneling of Glyoxylic Acid". Junior Adam Woods, a chemistry major, presented in the Undergraduate Poster session on Oct. 19.  Adam's presentation on "Contrast Agents:  New Positively Charged Contrast Agents for Diagnosis of Osteoarthritis" was based on research he conducted this past summer through a National Science Foundation Research Experience for Undergraduates program at Boston University.