The Center for Entrepreneurship and ENACTUS, with help from Massey College of Business, Center for Social Entrepreneurship and Religion and Arts, hosted the GoodMarket for the first time on campus to kick off the organization's university tour.
Following a morning lecture at 10 a.m. featuring founders of social enterprises including Patrick Woodyard from Nisolo, Will Anderson of Salemtown Board Co. and Belmont alumni Taylor Allen from Henri Rose and Isaac Ezell of HOPE International, students were invited to visit the market and shop among featured products.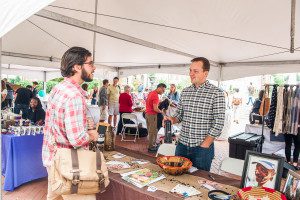 Director of the Center for Entrepreneurship Elizabeth Gortmaker explained that this stop on the GoodMarket's 10-campus tour was different from the rest as the Belmont market included exclusive, local businesses to personalize the experience for students. "I do hope to continue this event in the future. I wanted to bring in alums and other founders in the city who are doing work that interests our student body. We'll be able to connect those founders with some of our student entrepreneurs for mentoring opportunities."
The village featured 12 well-known, local businesses, and student social enterprises. The list includes Nisolo, FashionABLE, Miriam Designs, Salemtown Board Co., Hope International, Strings For Hope, Henri Rose, Social Enterprise Alliance, Thistle Farms, Consider the WLDFLWRS (Religion in the Arts alumnae), Enactus, DreamWeave and Sew For Hope.
In the spring, Belmont will host its annual Entrepreneurship Village to celebrate student entrepreneur and alumni businesses.