This year marks the 50th anniversary of the "Patsy Takemoto Mink Equal Opportunity in Education Act," better known as Title IX. While the act—first passed in 1972—applies to a wide variety of educational programs and activities, it has received most attention for its impact on collegiate athletics.
Title IX is encompassed in just 37 words of a 147-page document. Six pages from the end, these words state:
"No person in the United States shall, on the basis of sex, be excluded from participation in, be denied the benefits of, or be subjected to discrimination under any educational program or activity receiving Federal financial assistance."
In conjunction with Women's History Month and to celebrate the milestone anniversary, Assistant Professor of Interdisciplinary Studies and Global Education Dr. Mary Ellen Pethel hosted chapel titled "Passing the Torch," commemorating the lasting impact women have made to athletics throughout the last 50 years. Pethel's forthcoming book on Tennessee women in athletics is expected to be released in October 2022.
"Title IX provided a more inclusive scope of participation, equality and opportunity for women to compete in sports," explained Pethel. "The impact of Title IX and the chance to participate in athletics has freed women from the myth that they can't or shouldn't compete, achieve and win."
Teresa Lawrence Phillips and Susan Russ, two history-making athletes, joined Pethel for a panel discussion about their contributions to women's athletics in Tennessee.
Phillips was the first Black student to play on her private school basketball team at Girls Preparatory School in Chattanooga. She later helped start Vanderbilt's women's basketball program as an inaugural member during her sophomore year. After graduating and serving as an assistant coach with the Commodores, Phillips at age 26 was recruited to serve as head coach of the Fisk University Women's Basketball Team and led the program to win two conference titles. She later became an NCAA Division I women's basketball head coach at Tennessee State University where she worked from 1989-2000. Shifting to an administrative role, Phillips served as athletic director from 2002 until she retired in 2020.
During the discussion, Phillips shared her experience as a minority female athlete and noted, "laws don't change hearts or how people treat each other. We cannot be casual, and we can't get complacent if we believe in furthering women."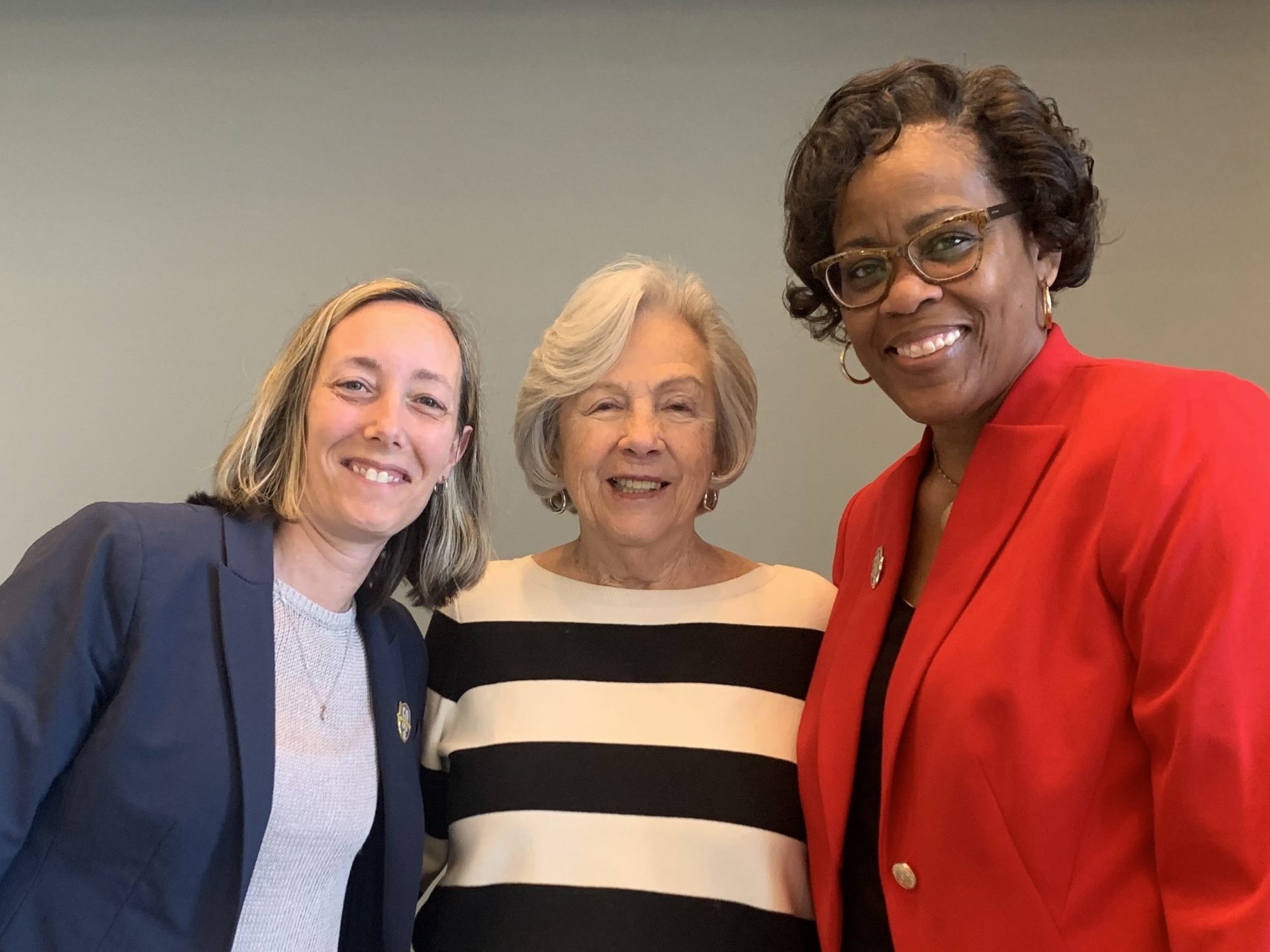 Russ's Tennessee story begins after college when a job led her to UT-Martin and later Memphis State (now University of Memphis) as a health and physical education instructor. She built the track and cross-country programs from the ground up and without funding, ultimately leading her teams to compete and win national titles in 1977 and 1979. After 11 seasons, Russ moved to Nashville where she assumed the role of head track and field and cross-country coach and later athletic director at Harpeth Hall School. Not one to sit still, she is coming out of retirement to serve as assistant coach for the Montgomery Bell Academy track and field team
As Title IX grew, men's and women's programs began to work together with a greater respect for each other, Russ remembers. "Title IX has allowed us to build and invest in women's sports, so we have equal rights, facilities and programs to continue advancing women's athletics."
Pethel invited Belmont legend Betty Wiseman to join the panel, but she was away with the Belmont Women's Basketball team at the NCAA Tournament.
In a pre-recorded video filmed at the Tournament, Wisemen reflected on the emotions surrounding the Bruins' win against Oregon, advancing them to the second round. This win "means we belong here," Wiseman said, "and takes me back to 54 years ago when we had that first season." The team traveled in two old station wagons, often dealing with broken-down vehicles, and ate sandwiches from the cafeteria during their trips.
They never thought about what they didn't have, but focused on the opportunity for women at the college level to play basketball, Wiseman remembers. "I didn't have that opportunity," she said. "For every woman that has ever played sports, there's still a little girl inside who wants to come out and play. And maybe that's why God granted me the chance to know this team for so many years."
"Every day I celebrate the significance of Title IX in my own life. Living in and experiencing the evolution of women's sports have been one of the greatest joys of my life and career," said Wiseman.