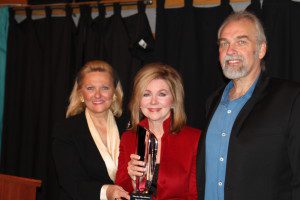 Congressman Marsha Blackburn was recently honored at an event at the Nashville Songwriters Association International (NSAI) as the 2014 recipient of the Cecil Scaife Visionary Award. The award is given annually to an individual whose life and work have made it possible for future generations to realize careers in the music industry. In the early '70s it was Cecil Scaife's vision to create a music business program for musicians, artists songwriters and future music business executives to formally learn the industry he loved so dearly. Scaife, along with several others on Music Row, helped start Belmont's music business program in 1971 with his long-time friend Bob Mulloy, one of the first instructors at Belmont who guided the program through its early years.
Congressman Blackburn was honored for her numerous contributions to the songwriting industry and her open door policy that has led to change regarding intellectual property rights and protections for music industry products. LaRawn Scaife Rhea, a Belmont alumna who founded the event which honors her father, said "Many people who become well known or 'famous', as many of you in this room have become, know how easy it is to let their feet leave the ground and appear to be someone they really aren't. I have known Marsha since I was her assistant in 1976, and she is still the same smart, hardworking and caring person."
Hosts for the event included NSAI, Mike Curb, NATIVE Entertainment Group, Little Extra Music Publishing, Danielle and Joe Scaife, Belmont's Mike Curb College of Entertainment and Music Business and LaRawn and Richard Rhea. Past recipients of the Cecil Scaife Visionary Award include Amy Grant, Tony Brown, David Griggs, Mike Curb and Wynonna.