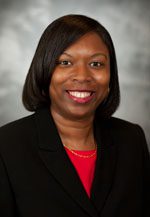 Dr. Tracey Carter, assistant professor of law and director of academic success for Belmont's College of Law, recently participated as a panelist during the Mississippi Law Journal's Voting Rights Act Symposium at the University of Mississippi School of Law. The symposium focused on the current status of voting rights in the U.S. as seen through the unique lens of the southeast region and Mississippi, in particular.
Carter participated as a panel member for "In Order to Form a More Perfect Union," and her specific presentation was titled "College Students and Voter ID Laws in Select States in the Southeast Region: Allowing Student IDs as Voter ID." Other panelists included Tommie Cardin, former chair of the Mississippi Bar's Government Law Section and former counsel for the Joint Committee on Reapportionment for Mississippi; Jack Park, former Alabama deputy attorney general who is assisting the Attorney General's Office with the post-2010 census redistricting process; former Mississippi Supreme Court Justice James Robertson and Michael Wallace, an attorney who represented the Mississippi Republican Party in congressional redistricting trials following the 2000 census in state and federal courts. The panel discussion was preceded by a keynote address provided by Mississippi Secretary of State the Honorable Delbert Hosemann and was followed by an ethics presentation given by Mississippi Supreme Court Justice Dawn Beam.
In addition, Carter's article "Local, State, and Federal Responses to Stalking: Are Anti-Stalking Laws Effective?" was recently published in the William & Mary Journal of Women and the Law's winter 2016 edition. Carter's article highlights stalking and addresses whether, 20 years after the original passage of the federal Violence Against Women Act in 1994, anti-stalking laws are effective at the local, state, and federal levels.
The article concludes with recommendations regarding interventions, prevention efforts and law enforcement practices to better protect victims of stalking. It goes on to state that in order to make anti-stalking laws most effective, there should be better identification of stalking offenses including increases in arrests, prosecutions, convictions and sanctions imposed upon stalkers to exhibit that stalkers will be held accountable for their conduct; and mandated professional counseling for stalkers.