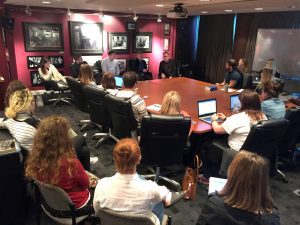 Roughly 20 members of the Belmont Christian Songwriting Community, a new campus organization started by songwriting majors in the Mike Curb College of Entertainment and Music Business, had the chance to hear from several top members of the Capitol Christian Music Group team recently. The students were able to listen to industry professionals discuss current trends that have been appearing in the Christian music market and where the industry seems to be heading. Additionally, the students in attendance were offered the opportunity to pitch the Capitol CMG team a song via an exclusive email address. The submissions will be reviewed and the Capitol team will invite at least one songwriter and one artist back for a follow-up face-to-face meeting sometime this month.
Capitol CMG Publishing Creative Manager Josh Kotras spoke to students about the growing power of the Christian music industry with a national radio audience of 40 million weekly listeners and a rapidly growing share of the streaming market. Vice President of A&R Brad O'Donnell and A&R Creative Director Jon Sell offered up advice for students hoping to become emerging artists within this market. "Being at Belmont means that the most talented, creative people from communities around the country have converged here," Sell said. "Collaborate with one another, encourage one another, challenge one another."
Capitol Christian Music Group is the world's leading Christian music company and market leader in recorded music, distribution and music publishing. It is owned by Universal Music Group under their label Capitol Records, LLC.