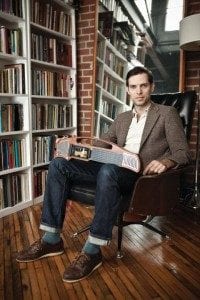 Dr. Mike Butera, a Belmont alumnus and adjunct instructor of sociology, invented INSTRUMENT 1, an iPhone musical technology that can become any instrument the user desires. Butera is founder and CEO of the Nashville-based company Artiphon, which launched a Kickstarter campaign earlier this year that far surpassed its goal of $75,000 in a matter of six hours, and the support for the campaign is continually growing. To see the current progress and learn about the campaign, click here.
The device, to be released January 2016, comes in white, black or a special Nashville hardwood edition. Depending on the instument of choice, INSTRUMENT 1 can be strummed, picked or tapped and is compatible its iPhone application, as well as hundreds of programs, such as GarageBand and ProTools. INSTRUMENT 1 is designed for the well-seasoned musician and first-time player, alike.
Click here to read a write up on Music.Mic.