A group of students from Belmont's O'More School of Design spent the holiday season spreading cheer in a unique sort of way as they "Reimagined the Holidays with Goodwill." The team, made up of five fashion merchandising students, created an original display inside a local Goodwill store made entirely of merchandise including a basket of toys, a piano and a garland-draped hat rack. The display's feature piece was a tree-shaped stack of paperback books atop a coffee table – all surrounding a red couch.
The exhibit was featured in an article recently published on Goodwill's Blog where the students discussed their experience as budding fashion professionals, highlighting their work and inspiration.
For group member Savannah Lowe, the experience was one she could relate to as she values the opportunity to reuse unique pieces in her own decorating. "I personally love thrifting," she said. "I was real excited when we got to do this. Most of the things in my apartment are from Goodwill. I like things that nobody else has that don't cost a lot of money. It's style on a budget."
For this project, the group was inspired to create a display that would feature the ways in which items found throughout the store can be reimagined. "You can find unique stuff at Goodwill, and we wanted people to see that your Christmas doesn't have to be like everyone's else's," Lowe said. "It's your own, individualistic, and you can celebrate and decorate it the way you want."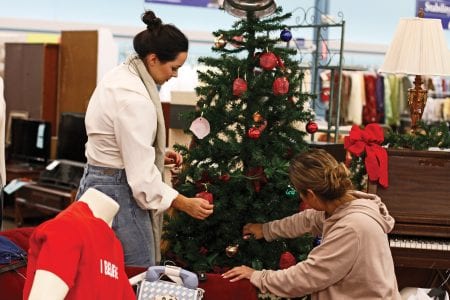 Beyond the point of decoration, Lowe said she and her team wanted their display to encourage creative ideas for ordinary items — like turning piles of books into a tree or creating ornaments out of cupcake liners. Understanding the budgetary restrictions of many young people, the target age group for the display, the team was keen on identifying ways to re-imagine Christmas with a eye towards being thrifty.
Chair of Fashion for the O'More School Jamie Atlas said the project teaches students how to think about their industry in a new way – from the perspective of others. Understanding Goodwill's one-of-a-kind merchandise line was especially interesting for students. "They typically only think of merchandising as it applies to a Nordstrom, Neiman Marcus or Belk," she said. "But there's this whole other facet out there where their skills can be used. And the biggest thing is filling the needs of others and giving back."
As for the feature's popularity? The store could barely keep it in place for customers flocking to the couch, attempting to buy it piece by piece.
Photography provided by Goodwill Industries of Middle Tennessee
Quotes provided by Goodwill blog