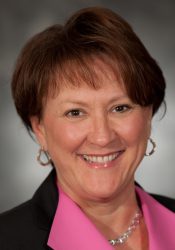 Belmont Associate Dean of Nursing Dr. Martha Buckner has been appointed to Tennessee Gov. Bill Haslam's State Board of Nursing.
Buckner serves as executive director of Partners in Nursing at Belmont University and has a wide range of clinical experience with adult post-operative and nutrition support patients. She also has teaching experience in nursing pharmacology, nutrition and adult health.
"We appreciate Gov. Haslam's recognition of Dr. Buckner's expertise and her steadfast commitment to the highest professional nursing standards. I know she will work tirelessly to promote and protect the health of Tennesseans," said Belmont Dean of College of Health Sciences and Nursing Cathy Taylor.
Established in 1911 by the Tennessee Legislature, the Board of Nursing's mission is to safeguard the health, safety and welfare of Tennesseans by requiring that all who practice nursing within this state are qualified and licensed to practice. The board consists of 11 members appointed by the governor for four-year terms, and responsibilities center around three broad functions: licensure, education and practice.