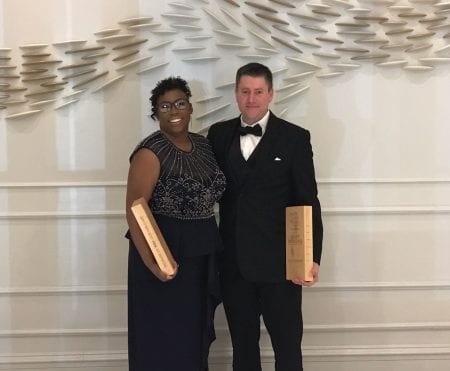 Women's basketball Head Coach Bart Brooks and Director for Media Relations, Women's Sports, Kenisha Rhone were both recently honored with awards from Play Like a Girl.
Brooks received the Most Valuable Player Award after leading the Bruins to a 31-4 overall record in 2017-18, its best since 1993-94. The success earned the program its first national ranking in the Associated Press Top 25 and Brooks the Ohio Valley Conference Coach of the Year as well as Spalding Maggie Dixon NCAA Division I Rookie Coach of the Year. "Our success is never about me as a coach," Brooks said, "it's all about the toughness and leadership of the young women in our program. They are the true recipients of this award, and they are the reason for the success of our program."
Rhone was honored with the Volunteer of the Year as she is heavily involved in numerous professional organizations as well as in community service throughout Nashville. Rhone is a member of Delta Sigma Theta Sorority, Inc., serves on the Greater Nashville Susan G. Komen Race for the Cure steering committee and volunteers frequently to speak to youth groups including the Girls Scouts of Greater Nashville. She said, "Too often we're told, 'You can't do that, you're a girl.' I had those moments; I remember them, we all do. But what can we do to change that narrative in the lives of girls? That's why I do this, to see faces light up."
Play Like a Girl!® is a national 501(c)3 charitable organization founded in 2004. The group's mission is to ensure that every girl reaches her full potential by providing girls ages 9-13 an opportunity—and in many cases, their only chance—to participate in sport and physical activity. The awards ceremony was held Nov. 26 in Franklin, Tennessee.