The last time Hailey Pierce attended the Bonnaroo Music and Arts Festival she popped in for a day with her mom to see The Lemon Twigs before a campus visit to Belmont. Now at age 21 and a student in Belmont's Bonnaroo U course, she ventured out on her own.
"The hardest part," she said, scanning the crowd like a detective looking for someone to interview, "is finding the right person to approach."
Hailey and the other 18 students in Bonnaroo U would gather about 400 interviews over the course of the festival, and she wanted to make sure she had a good mix. She looked past the ravers and hippies for the time being and zeroed in on a woman named Meg, age 62.
Meg, who lives nearby in Tullahoma, wore a scrunched up straw cowboy hat with a bandana around the rim. She had a lighter hanging around her neck in a purple case studded with sparkly stones. Hailey had practiced spotting these type details in class during the weeks prior—the choices of style, the clues and outward expressions of personality that could indicate taste in music. As she worked through a set of questions with Meg, she learned even more. Eventually they came to an artist they both loved— Tom Petty, a former Bonnaroo headliner. "He's my favorite," Hailey said as it had been a favorite of her mother's too.
Of course the goal of Hailey's research wasn't to find common ground—it was just a side effect of the two women spending some time together talking about music and festivals. Rather, Hailey was learning about how music discovery works, consumption of culture and the inner workings and influences of music festivals. Later that same day she would speak with some younger people from Chicago who came to Bonnaroo for EDM while another guy in his 40s wearing a Phish T-shirt couldn't name a single artist on the lineup.
The students who participated in Bonnaroo U's third iteration this year lived on two tour buses during the festival. Part of their time on site happened behind-the-scenes in the media tent where they met with panelists representing an impressive array of artists, managers, festival organizers and more. The experience at the festival also was bookended by class time when students study the sociology of music and cultural theory. They learned about consumer research methods, developed interview questions, and practiced observation techniques in the classroom and at CMA Fest. They toured the Bonnaroo grounds before the festival began. Then following Bonnaroo, they gathered again in the classroom to compile, code and present their findings for up to 40 festival organizers and music industry folks.
It's a creative and innovative way of approaching education that connects theory with practice.
Road to 'Roo
In the week before Bonnaroo, Dr. Ken Spring paced the floor of a classroom talking about a dive bar outside of Detroit. It's the subject of a well-regarded article the sociology professor has written called "Behind the Rave." The story includes details about politics, art, law enforcement, money and the commerce that grew around the bar in a formerly derelict factory town. Spring later related some of the material to how parts of other music scenes take root including the formation of Bonnaroo.
He co-teaches Bonnaroo U with Dr. Sarita Stewart, a professor of Creative & Entertainment Industries. The pair tag in to lead sessions seamlessly, each complimenting the other with their strengths. In the process, students learn about the conditions leading to consumption of music as a cultural product and its relationship with various social institutions. They learn how festivals fit into the scope of the music business. As a result of their experiential and team learning, consumer research and cultural theory are made more approachable, and their experiences with industry folks leads to internships and jobs.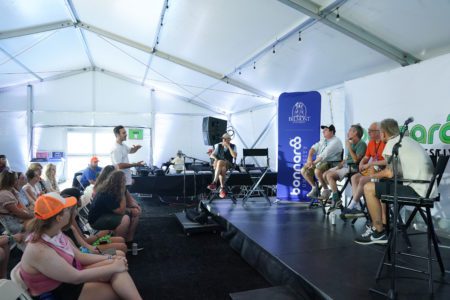 Indeed, the panel discussions in the media tent included personal advice for the students from heavy hitters like Ken Weinstein, a Bonnaroo co-founder and longtime publicist with his firm Big Hassle. ("If you love something, do not talk yourself out of it," he said.) The panels, which happened about twice a day, are coordinated with the help of Bonnaroo U partners Brad Parker of C3 Presents' U.S. Festival initiatives and music industry veteran Jeff McClusky. As another example, speakers on the Women of United Talent Agency panel suggested that students "remember your why," and "if there's not a seat left at the table, roll up a chair."
The course is in its fourth iteration. Since it began, Stewart and Spring have added a networking requirement, a journaling component and a festival curation exercise where students recommendation a headliner, mid-tier and emerging acts. Diversity has been added to panels so students can see themselves reflected in the work of the music business including an alumni panel where students hear from folks who have walked in their shoes.
"I tell our students they're getting five years of networking in five days," Spring said.
And the students seem to fully recognize this. The course fills up quickly with a waitlist. Two women in this year's group said they came to Belmont specifically for the course.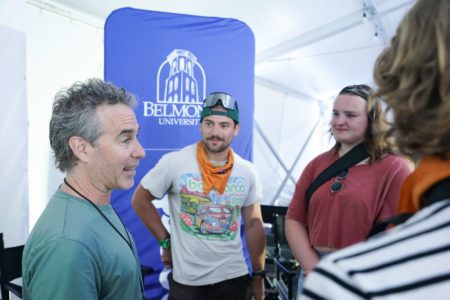 "It's nothing I've ever heard of or experienced in my life and probably will never experience again specifically in a school setting. Being able to talk to so many industry people and see so many amazing artists and be able to do so many amazing things," said another student and audio engineering major, Kaitlyn Walker. "It's probably gonna be the highlight of my whole college career."
Universities across the country and in Europe also have been taking note. Stewart and Spring presented about the festival in the Netherlands; they've written a teaching paper on how to replicate the program; and courses such as Lollapalooza U at DePaul University have been modeled after their program. They've been pulling in additional disciplines too such as Belmont nursing students who completed clinical hours this year alongside the Bonnaroo medical team.
"From a professor's standpoint, you always want to build and share your knowledge with other people because that's what we're trying to do," Stewart said.
The professors also dream of Belmont hosting its own music festival someday as an educational tool that simultaneously showcases the musical talent of the students.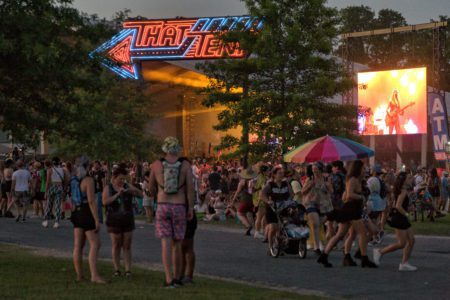 "Every time we do this class, we learn from the years before and evolve the class," Spring said.
Each year, though, he also warns the Bonnaroo U students that the experience might ruin music festivals for them forever – especially if they attend as general population.
Music business student Chris Barefoot sees it another way. While he has indeed relished the opportunity to meet industry contacts and watch shows from the front row during Bonnaroo U he says, "it's motivating, because I want to get back here." Classmate Madeline Sanderson chimed in to clarify. "Back here working in the industry" she said, "with the same access."