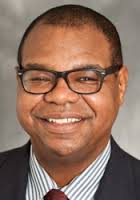 Belmont University College of Pharmacy Assistant Professor Dr. Anthony Blash co-presented at the 2016 Healthcare Information Management Systems Society (HIMSS) annual conference in Las Vegas, Nevada with JoAnn W. Klinedinst, M.Ed., CPHIMS, PMP, DES, FHIMSS, vice president of professional development for HIMSS North America.
Blash spoke about the benefits of being a HIMSS Approved Education Partner (AEP) and highlighted the fact that Belmont University's College of Pharmacy was the first AEP chosen by the HIMSS society.
Attendance at this years' conference was at a near-record high with over 40,000 attendees. After the conference, the society donated HIMSS conference backpacks to Blash for Belmont University College of Pharmacy students in the Healthcare Informatics concentration. The bags will go to students in a variety of healthcare informatics courses, as well as those who obtain their CAHIMS certification before graduation.
HIMSS is a not-for-profit organization dedicated to improving healthcare quality, safety, cost-effectiveness and access through the best use of information technology and management systems with 52,000 individual members, 570 corporate members and 225 not-for-profit association members.