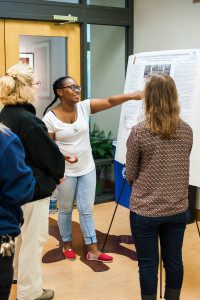 For the students in Belmont Biology Professor Dr. John Niedzwiecki's Animal Behavior course, spending hours each week at the Nashville Zoo was not a way to avoid studying, but a large part of their coursework. As a semester-long lab project designed to give students the opportunity to observe and research animal behavior in a hands-on way, students were paired in groups of two, assigned an animal to work with and together, came up with a testable hypothesis to study.
The teams worked with a variety of animals including kangaroos, elephants, red pandas, bongo bongos and night active amphibians, among others. Once students received their assignments, they met with the animal's keepers to begin the scientific process. Topics of study were varied and included social groupings, dominance, alertness and environmental effects on animal behavior.
Senior biology major Lindsay Millward worked with kangaroos throughout the semester and, with partner Mallory McDonald, studied specific grouping behaviors within the zoo's interactive exhibit.  Because the kangaroo exhibit is structured similarly to the zoo's petting zoo, the team was able to interact with the animals one-on-one.
Millward said the opportunity to take learning outside the classroom was an invaluable one, as she and McDonald actively saw lecture topics illustrated in animal behavior and strengthened their understanding of course materials. This learning lab allowed Millward to further investigate a career in zoology, one that has become more interesting as a post-graduate option. "The project fit seamlessly with our in-class topics and further developed my understanding of animal behavior," Millward said. "I also further strengthened my skills in the research process and scientific method."
The project was twofold – students had the opportunity to take their learning beyond the classroom and zoo employees were able to take part in important research that they don't always have the time to investigate themselves. McDonald said she was particularly impressed with the zookeeper's interest in student projects, regardless of the animals they were assigned to. The opportunity to learn from a field expert was significant. "I was very humbled and appreciative of how many zookeepers, besides the kangaroo keepers, were interested in our research," she said. "This project was a learning opportunity like no other, and it was really fulfilling to engage in a project that extended beyond the University."
Director of Veterinary Medicine at the Nashville Zoo Dr. Heather Robertson said the chance to have the students work with zoo staff was a mutually beneficial experience. "Discovering and understanding the complexities of our natural world is at the core of Nashville Zoo's mission," Dr. Robertson said. "Our relationship with the students at Belmont University not only helped them apply the skills they have learned in the classroom, but also provided the Zoo with valuable research that can be used to improve the quality of care for our animal collection."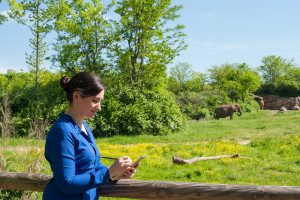 For junior neuroscience major Miranda West, the chance to work in the zoo for the semester had a larger impact than expected. Aside from the reminder that classroom learning applies to the "real world" in a concrete way, West said her work with the zoo's elephants instilled a new appreciation for nature, life and education. "I had moments of awe after staring at the elephants for hours. I would think to myself, 'Wow, that being is living and breathing just like me.' God's work and attention to detail, even in the animal kingdom, amazes me."