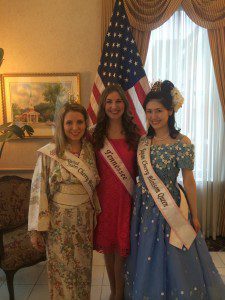 Belmont junior Betsy Lane was chosen to represent Tennessee in the National Cherry Blossom Festival in Washington D.C. from April 5-11 as the Tennessee Cherry Blossom Princess.
The Cherry Blossom Princess Program is a week-long experience that offers cultural and educational opportunities for young women from around the world, typically students between the ages of 19 and 24. Participants are selected by a state society or embassy based on their leadership, academic achievements and interest in social, civic, community and world affairs. Each state society selects one representative to send to the festival each year. To see the Tennessee State Society's announcement for 2015, click here.
The mission of the program is to offer an educational experience, or "Washington classroom," by introducing participants to many government, cultural, military and business leaders and female role models who work in the nation's capitol.
Lane's D.C. tour started on Easter Sunday with a lantern lighting at the Tidal Basin. A full week of activities, including a Congressional reception, dinners with the Marines and Japan Ambassador and many other events for participants followed. The week concluded with a sushi reception and Grand Ball on Friday night, followed by a parade down Pennsylvania Ave. and the Matsuri Festival. To see a detailed list of events, click here.
Lane was able to meet and form relationships with many people through the festival's events. "I learned that the relationship between Japan and the United States is a very special one, and it's something that we are proud of. Every year, thousands gather in Washington DC to celebrate the friendship that we share with the gifting of the Cherry Blossom Trees 103 years ago," Lane said.
Lane explained her strong tie to Japanese relations and culture by telling the history of her great-grandparents, Harold and Pauline Lane. Lane's grandmother was born in Sapporo, Japan in 1930 and lived there until her 11th birthday when she and her twin traveled to New York aboard the USS Gripsholm (documented in the book, "Exchange Ship," by Marx Hill). The twins traveled to America alone, as their parents Harold and Pauline had been arrested and imprisoned shortly after the bombing of pearl harbor. In the months following, the sisters were hidden in a convent where they were sheltered until the Red Cross could arrange for an exchange ships. Harold and Pauline joined the twins in America almost one year later.
After the war, Harold and Pauline returned to Japan to help rebuild the country because of their love of missionary work. They were among the first non-military personnel allowed back into Japan and did their best to extend friendship to their adopted country. Pauline worked as a volunteer in many organizations, and Harold returned to teach at Hokudai (Hokkaido University) in Sapporo. In 1962, the Emperor of Japan bestowed upon Harold, Lane's great grandfather, the honor of membership in The Order Of The Rising Sun, the highest honor for non-Japanese civilians.
During her week at the Cherry Blossom Festival, as she carried on her family's Japanese history, Lane was able to volunteer in the local Washington D.C. community. She spent time at the Kennedy Institute school, an organization that advocates for students with disabilities. Lane said it was a unique opportunity, and she was impacted by the children she spent time with and her fellow princesses.
"I really loved getting to know all the other states' princesses throughout the week. Each state, U.S. territory and even International Embassies are represented. Because of this program, I now have best friends in Hawaii, Vermont, Utah, New Mexico and Minnesota, and now women from American Samoa, Guam, the U.S. Virgin Islands and Puerto Rico. There were even international princesses! So now I have friends in Italy, Mexico and Lithuania."
To see more from Lane, follow her on twitter, or click here. For more information on the Cherry Blossom Festival, click here.