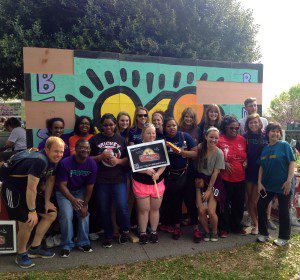 As student members of the Belmont chapter of Best Buddies were participating in a Friendship Walk at Bi-Centennial Mall to raise money for Best Buddies Tennessee on April 13, they learned they won Tennessee College Chapter of the Year.
"Winning best college chapter for the state of Tennessee was a surprise, but I believe a true reflection of the genuine hearts of the Belmont students that are members of Best Buddies," said chapter President Kristin Hinkley, a senior studying public relations. "The students in our chapter really go above and beyond to include their buddies in their everyday life, integrating them with their friends and their weekend plans. Our members don't do it to build their resumes or get community service hours, they do this because they truly believe in Best Buddies and how important it is to give a voice and a community to those who wouldn't get either otherwise."
Best Buddies is a non-profit organization dedicated to establishing a global volunteer movement that creates opportunities for one-to-one friendships, integrated employment, and leadership development for people with intellectual and developmental disabilities (IDD). Best Buddies International opened a state office in Tennessee only a few years ago and has already established over 70 middle, high school and college chapters in the state. The Belmont chapter is four years old.
Taylore Griffin, program manager for Best Buddies Tennessee, said she nominated Belmont for the award because many of its buddies are live far from campus yet Belmont students always are willing to pick them up for events and continuously show dedication to service.
"This is a tremendous award and recognition of our student members of Best Buddies at Belmont. These students are truly engaging and transforming the world. Through the seemingly simple act of friendship, Best Buddy Belmont members are breaking down barriers for individuals with intellectual and developmental disabilities," said chapter adviser Sally Barton-Arwood, associate professor of education. "I am humbled and inspired by their unwavering commitments to advocate for and create inclusive communities that recognize similarities and strengths instead of deficits and differences."
The day the students won the award, members of Best Buddies Belmont and four buddies with intellectual disabilities attended a Judah and the Lion Four concert and were honored backstage and on stage.