For Belmont senior Jackson Wells, singing to crowds of more than 10,000 fans is all in a day's work. Spending the summer performing across China, Wells and his Nashville band have been seen on stages in Chengdu, Shenzhen and Nanjing, among others, and rounded out their three-week tour on August 9 in Beijing.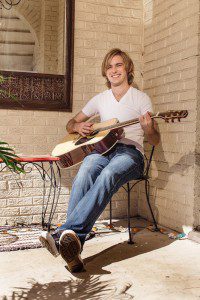 Originally from New York, Wells relocated to Nashville with his family years ago and chose to study songwriting and Chinese at Belmont because of its prominent music program and Music City location. In 2012, Wells traveled to China for what would, unbeknownst to him, become his first performance in the country. Initially traveling for an educational service opportunity, Wells was encouraged by a friend to bring his guitar and found himself playing in Chengdu's Youth Music Festival – to 5,000 fans. From there, Wells's international career took off.
Prior to launching his summer tour, Wells spent the month of April in China performing two concerts – one hosted by Governor Arnold Schwarzenegger and a second at Xichong Technical College, both drawing crowds of several thousand fans.
Wells said the best part of his experience has been his fan base. Being the band's first ticketed tour, Wells said they weren't sure what reaction they'd get. But the response was nothing short of incredible. "To walk into a venue and have the crowd already excited to be there and ready to go was a complete blessing. I'm delighted to say that I feel the tour was a 100 percent success. To the fans – thank you, thank you, thank you. You give us a chance to do what we love on a daily basis. I don't take that lightly, and I am very humbled to be 21-years-old, touring China and doing what I love."
Though success has come quickly and Wells and his band are already looking towards a U.S album release in the coming months with the Chinese version close on its heels, the musician is quick to provide advice for aspiring talent. "Find your niche," Wells said. "For us, it was an international fan presence that was worth cultivating. It's a constant learning process and even at good shows, there are always things to learn. It's always about growth. And it's about believing in you."
Wells has been profiled in a number of publications across China including recent articles in Shenzhen Daily highlighting Wells's tour, ever-growing talent and ability to turn a venue into a "hot summer party with fans." But even as the party continues, Wells is committed to staying "on his game," remaining humble and innovative through his music. Because as Harrison Ford said in Star Wars, a mantra that repeats in his head often, the secret to musical success for Wells is remembering, "don't get cocky, kid." There's still plenty left to learn and lots of stage left to cover.