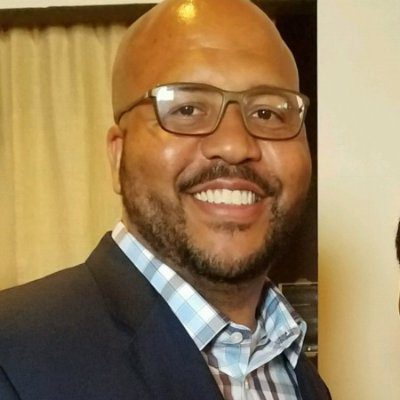 Assistant Professor of Music Business Eric Holt was recently named as one of Leadership Music's historic 30th Class of 2019, among 44 other industry leaders from across the country. Founded in 1989 by 12 music industry alumni of Leadership Nashville, the national program has since graduated nearly 1,200 leaders.
Designed to create a forum for recognized music industry leaders to learn as they deep-dive into almost every segment of the music business, the program invites participants to identify and explore issues currently affecting the music industry.
"Personally, being selected for inclusion in Leadership Music Class of 2003 was a life-changing experience," CAA's Jeff Gregg and co-chair of the Selection Committee said. "These 45 leaders selected for the Class of 2019 are embarking on one of the most significant journeys of their career. As a member of the committee, I know I speak on behalf of those that served, we don't take the responsibility lightly.  Choosing the class from the more than 300 qualified candidates who applied is done with great deliberation and thought."
Participants will attend an orientation and alumni welcome reception in September and a two-day Opening Retreat in October, followed by six all-day sessions once a month ending in May with graduation at a two-day Closing Retreat.
The 45 Members of the Class of 2019 include:
Austen Adams, Attorney, Dickinson Wright
Miles Adcox, CEO/Owner, Onsite
Joseph Atamian, Agent, Paradigm Talent Agency
Greg Barnes, General Counsel, Digital Music Association (Washington, DC)
Michael McAnally Baum, President, Smack Songs
Drew Burchfield, Co-Founder, Aloompa
Anna Bonny Chauvet, Assistant General Counsel, U. S. Copyright Office (Washington, DC)
Jarrod Cooper, Vice President, Strategy and Business Development, ONErpm
Kevin Dalton, Business Manager, Wiles + Taylor
Scott Day, Chief Technology Officer, SoundExchange (Washington, DC)
Mehmet Dede, Talent Buyer, Drom NYC/Assistant Professor, The Hartt School (New York City, NY)
Nick Di Fruscia, Vice President, Awards & Membership, ACM (Los Angeles, CA)
Ryan Dokke, Senior Vice President/General Manager, Curb/Word Entertainment
Beville Dunkerley, Head of Nashville Artist Marketing & Industry Relations,  Pandora
Serona Elton, Associate Professor/Chair, Music Media & Industry Department, Frost School of Music, University of Miami (Miami, FL)
Jessica Frost, Executive Director, Industry Relations, BMI
Scott Gerow, Producer/Songwriter/Composer, Battery Lane Music
Tim Godwin, Director, Artist & Entertainment Relations, Taylor Guitar (El Cajon, CA)
Tony Grotticelli, Vice President, Digital Marketing, UMG
Chuck Harmony, Artist/CEO, Weirdo Workshop
Debra Herman, Head of Music Partnerships, Shazam (New York, NY)
Eric Holt, Assistant Professor, Belmont University/Partner, Lovenoise
Leigh Holt, Co-Owner/Manager, Redjett Management
Jackie Jones, Director, Music & Talent, CMT
Meredith Jones, Agent, CAA
Gina Keltner, Director, Talent Scheduling & Logistics, Grand Ole Opry
Jay Knowles, Songwriter/CEO WhaleFarm
Garrett Levin, Deputy General Counsel, IP Law & Policy, National Association of Broadcasters (Washington, DC)
Taylor Lindsey, Vice President, A&R, Sony Music Nashville
Chappel McCollister, Head of Strategic Partnerships, Sandbox Entertainment
Marie Miscia, Promotion Director, WKDF/WSM-FM, Cumulus Nashville
Paul Moak, Producer/Studio Owner, The Smoakstack
Jessica Nicholson, Managing Editor, Music Row
Nathan Nicholson, Head of Creative, Thirty Tigers
Ashleigh Overly, Managing Director, Sports & Entertainment, SunTrust Bank
Mike Rittberg, Chief Marketing Operator, BMLG
Lindsay Rothschild, Songwriter & Publisher Relations, Lead North America, YouTube (Los Angeles, CA)
Chad Schulz, Vice President, Radio & Streaming, Warner Music Nashville
Karen Silhol, Executive Vice President, Finance & Administration, RIAA (Washington, DC)
Brandi Simms, Senior Director, Awards & Industry Relations, CMA
Lauren Spahn, Attorney, Shackelford, Bowen, McKinley & Norton LLP
Jessica Tomasin, Manager, Echo Mountain (Asheville, NC)
Nate Towne, Agent, WME
Christy Walker-Watkins, President/Co-Owner, AristoMedia Group
Garry Wall, President/Founder, Sparknet Communications
For more information on Leadership Music, click here.