Belmont's Equestrian Club won 11 ribbons at a recent Intercollegiate Horse Show Association riding competition.
The six members who competed in the hunter/jumper discipline of equestrian sports rode against schools including Vanderbilt University, University of Tennessee at Knoxville, Sewanee, Middle Tennessee State University and Murray State University.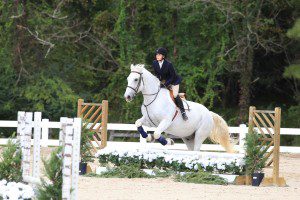 All of the riders representing Belmont placed in the flat and over fences classes. The flat classes require riders to control their horses by performing various gaits asked by the judge while maintaining proper equitation form. Over fences classes test riders to navigate their horses through a course over fences while maintaining proper equitation form. The horses are randomly drawn for each rider, challenging their riding ability.
"The club has several great riders this year which we proven by our ribbon placings. Even though the club is only three years old, we have grown in members and strength in riding ability over a short period of time," said Allison Harpole, Belmont Equestrian Club president .
Ribbons won by the Belmont Equestrian Club include Allison Harpole's 3rd and 6th places, Camila Conesa's 1st place, Mary Ritchea's 1st places, 6th place and Reserve Highpoint Rider designation, Meg Anderson's 2nd and 4th places, Jillian Kimball's 6th place and Susie Joyce's 4th place.