Students, faculty, staff and alumni at Belmont University gathered on Feb. 3 for a mid-morning march and vigil in memory of Tyre Nichols of Memphis, a Black man who died at the hands of police brutality in early January.
The observation took place three days after Nichols' funeral and was organized and held in less than a week through the swift efforts made by Belmont's Black Student Association (BSA), Office of Campus Security and additional offices across campus. Programming began with a silent march around the northeast corner of campus and concluded with special remarks and a short vigil.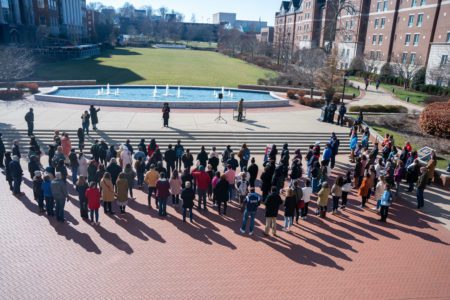 The starting place of the silent march was in front of the Belmont mansion–a well-preserved landmark of historical relevance with an unerasable imprint of enslavement–and ended at Freedom Plaza where the names of the enslaved persons who once worked the grounds where Belmont exists are etched in the fountain stone for remembrance. 
Chief of Campus Security Pat Cunningham and BSA president Justice Dudley gave special remarks that addressed the tragedy of Nichols' death, encouraged solidarity in Belmont's work to reweave the social fabric and expressed a commitment for Belmont to exist as a safe place where all people are valued and belong.
"We are all human," Dudley said. "This is precisely why desensitization [to Black trauma and death] won't work. We will always stand, march and be together."
BSA social media coordinator Marcus Knight ended the vigil in prayer, "Therefore, we ask you to retrain the minds that would think to harm another, to reshape the hearts of those who would think too highly of themselves to determine whether someone lives or dies, and to restore the souls, as said, in your word, for your namesake….our only request now is this: whatever is bound and loosed in heaven, let it be bound and loosed here on earth."